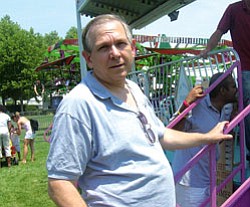 Myron Struck has held several impressive positions throughout his lifetime, including reporting for the Miami Herald and the Washington Post, editor for the Roll Call, States News Service, Manassas Journal-Messenger and the Washington Times, press secretary for Rep. Phillip Burton (D-Calif.) and founding partner of Targeted News Service and founding co-partner of NewsWatch Native America (Photo courtesy of Myron Struck).
Stories this photo appears in:

Tanya Lee and former Washington Post reporter create on-line information delivery system
FLAGSTAFF-Tanya Lee's entry into Native American news was pretty much a stroke of good luck. She answered an advertisement in the Navajo Hopi Observer for a graphic design artist in October 1997. She met then-publisher Jay LaPay to interview for that position, and much to Lee's surprise, she was instead offered the editor's position. Despite extensive writing experience, she was neither a journalist nor a newspaper editor.