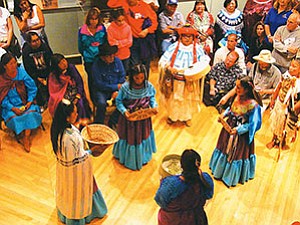 Diana Sue Uqualla drums as young Havasupai girls perform a basket dance. The young woman at the bottom of the photo is holding a basket of sage to use in blessing the exhibit and the people who have attended the event (Photo by S.J. Wilson/Observer).
Stories this photo appears in:

GRAND CANYON-The balcony and stairs overlooking the auditorium of the Grand Canyon National Park's Kolb Studio groaned under the weight of an additional 20 to 30 people trying to make their way around the exhibit floor. Four young Havasupai girls stood in a circle, a fourth dressed in buckskin stood slightly to one side.