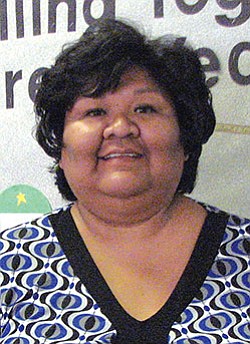 Sharlene Navaho (Courtesy photo)
Stories this photo appears in:
Former TC staffer at the leadership helm
CAMERON-Sharlene Navaho, formerly a Title I resource teacher at Tuba City Primary School has been named interim principal at one of the three Tuba City District elementary schools this past month. Navaho, who holds a master's in education from Northern Arizona University (NAU) and a bachelor of science in elementary education also from NAU had a head start in educational enrichment by attending Cushing Academy in Ashburnham, Mass. during her high school years.