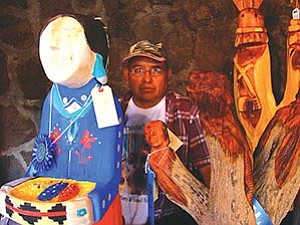 Harry Benally of Sheep Springs, N.M., with two of his "Diné Lady" sculptures. Benally took first place in the Folk Art category with the carving on the left. The carving on the right brought Benally an honorable mention in the sculpture division (Photo by S.J. Wilson/Observer).
Stories this photo appears in:
FLAGSTAFF-At least 77 Navajo artisans and craftspeople as well as dozens of exhibitors and performers were on hand for the 58th Annual Festival of Arts and Culture held Aug. 4 and 5 at the Museum of Northern Arizona in Flagstaff. Museum Director Robert Bruenig summed up this year's show with a very interesting and valid observation.