Garrison George (center) celebrates graduation from Apache County Drug Court with members of the court team, from left, Lori Jaramillo, Sarah Jimmy, Mike Colwell, Judge Donna Grimsley, Karen Bender, Kirk Grugel, Julie Nicholson, Andrew Maestas, Jason Moore and G.L. Pat Patterson (Courtesy photo).
Stories this photo appears in: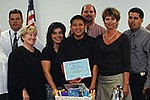 ST. JOHNS-The Apache County Juvenile Drug Court celebrated its second graduate, 17-year-old Garrison George after successful completion of a nine-month program on July 25.