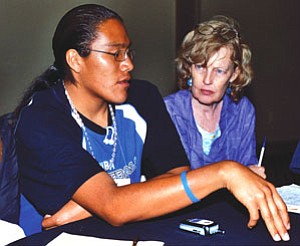 Paul Quamahongnewa makes a point while National Youth Radio's Ellin O'Leary listens (Photo by Stan Bindell).
Stories this photo appears in:

Thumbnail photo: Emma Thompson and radio teacher Stan Bindell pose with New Orleans radio personalty Dewayne Breashears. NEW ORLEANS, La.-Seven radio students from Hopi High learned more about radio and formed partnerships while attending the 32nd Annual National Federation of Community Broadcasters conference held April 11-14 at the Sheraton New Orleans. The students had a roundtable meeting with representatives from National Youth Radio (NYR) out of Berkeley, Calif.