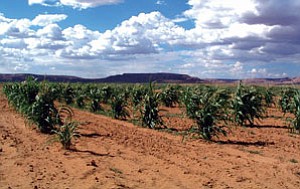 The Bear Clan corn fields in Shungopavi are shown in this undated photo. The Bear Clan fields are the first to be planted every year and are maintained by various clan members, including Ben Nuvamsa. Nuvamsa says that his participation in helping to maintain these fields and partaking in religious ceremonials constitutes proof of his residence at Hopi (Courtesy photo).
Stories this photo appears in:

KYKOTSMOVI-Following the Hopi Tribal Council's March 28 decision to nullify the election of Chairman Ben Nuvamsa, several actions have been taken to clarify the terms of the nullification. Nuvamsa and supporters turned out at the April 9 meeting of the Hopi Tribal Council to appeal the decision and argue its lack of constitutionality. The meeting was convened to decide whether to rescind the nullification, to hold another special election, or to maintain a government without a chairman for the next two years.