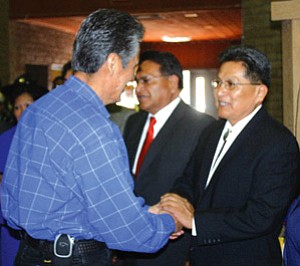 Navajo Nation President Joe Shirley Jr. (left) congratulates newly inagurated Hopi Tribal Chairman Ben Nuvamsa during inauguration ceremonies held March 21. The Hopi Tribal Council removed Nuvamsa from office a week later on March 28 after nullifying results from both the primary and general elections held earlier this year (Photo by Rebecca Schubert/Observer).
Stories this photo appears in:
Editor's note: As of press time, no details regarding the Hopi Tribal Council's special session were available for publication. KYKOTSMOVI-Ben Nuvamsa could soon regain his chairman's post with the Hopi Tribe. The Hopi Tribal Council met on Monday, April 9 to consider rescinding its March 28 motion to nullify the primary and general election. The nullifying of those elections unseated Nuvamsa as chairman. Nuvamsa called the Hopi Tribal Council's action "illegal" and said the council did not have the authority to nullify the election results.