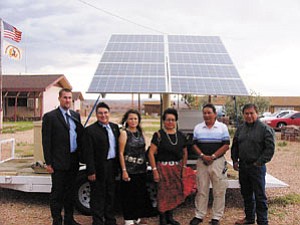 S.J. Wilson/Observer
Michael Elliot, left, David Melton, Rayola Werito, Chapter Delegate Evelyn Acothley, Teddy Bedonie and Jack Colorado stand in front of the New Mexico model of Sacred Power Corp's solar settup. The Cameron model will include a wind turbine instead of a propane generator and a refrigerator.

Stories this photo appears in:
Federal Renewable Energy grant for $1.9 million will fund 100 solar panels for Cameron area
CAMERON - As rain clouds and showers blessed the Cameron area on Aug. 24, more than 100 chapter members celebrated the efforts of Rayola Werito and David Melton that secured funds for 100 solar panels soon to supply energy to local residents lacking electricity.