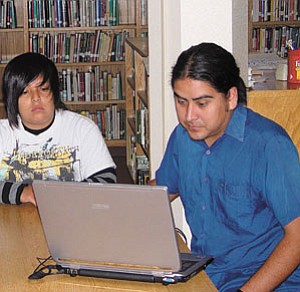 n Chacon, far right, is the 2006 Grand Canyon Music Festival's Composer in Residence for the Native American Composer's Apprenticeship Program working with Native students interested in musical composition.  Chacon is seated in the Tuba City High School library with Krystyn Tallsalt, a NACAP studentsforom Tuba City High.
Stories this photo appears in:
TUBA CITY -Since 2000, the Grand Canyon Music Festival through its Native American Composer Apprenticeship Program (NACAP) has sought to develop musical literacy by enhancing critical thinking and decision-making skills through the study of music composition.