Courtesy photo
Navajo Nation presidential candidate Lynda Lovejoy recently picked Walter Phelps as her vice presidential running mate. The Phelps family includes Walter, left, his wife, Sharon, and sons Wayne and Dakota Phelps. Wayne is currently serving with the Marine Corps. Dakota is home schooled by his parents.
Stories this photo appears in: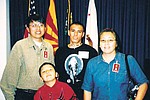 GRAND FALLS - During an Aug. 17 chapter meeting and well dedication, Leupp Chapter President Thomas Cody formally introduced Walter Phelps to his home chapter as Navajo Nation Presidential candidate Lynda Lovejoy's running mate. It was an emotional event for Phelps and his family.
By By S.J. Wilson
September 4, 2006