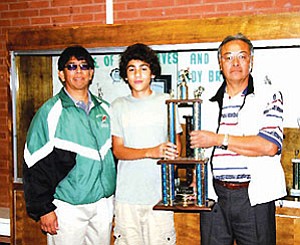 TC Jr. High head cross-country coach Arvis Myron (left) stands with eighth-grader and 2006 Jr. High cross-country Individual Champion Bill "Billy" Orman (center), son of Teresa and Dr. William Orman. Holding the state trophy is TCJHS Principal Lee Tsingine (right).  Orman is a first time competitor making his state title all the more astounding (Photo by Byron Poocha/TCUSD).
Stories this photo appears in:
Standouts Chris Holve and Bill Orman take state's highest running honors
TUBA CITY - Two outstanding Tuba City district athletes are being recognized for their achievements in cross-country. Chris Holve, son of Dr. Diana Hu and Dr. Steve Holve, ran the race of his life and captured the Arizona state individual cross-country championship for 2006. Holve, of Chinese-Anglo descent, is also an academic high-achieving senior at Tuba City High School and was born and raised on the reservation,Younger TC district athlete, Bill Orman, an eighth-grader, is the son of TC district teacher Maria "Teresa" Orman and Dr. William Orman. Orman, of Hispanic-Anglo descent was born in Baltimore, but was raised in Tuba City and even more miraculously, just started his young running career this school year, capturing the state cross-country championship title at the junior high level.