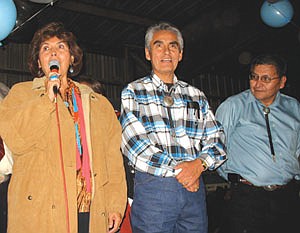 Mrs. Lynda Lovejoy offers her concession speech in Nakai Hall shortly after all 110 chapters reported their voting results. The Shirley-Shelly ticket won over the Lovejoy-Phelps ticket with a vote of 34,813 to 30,214 (Photo courtesy of Navajo Nation Office of the President and Vice President).
Stories this photo appears in: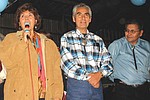 WINDOW ROCK - Navajo Nation President Joe Shirley, Jr., on Tuesday became the first Navajo president to win re-election, overcoming challenger Lynda Lovejoy with 53.5 percent of the vote. As in the August primary election, when the votes began to come in shortly after polls closed at 7 p.m., President Shirley and Vice Presidential running mate Ben Shelly took an early lead and never lost it. The final tally with 110 chapters reporting was 34,813 votes, or 53.5 percent, for the Shirley- Shelly ticket versus 30,214 votes, or 46.4 percent, for the Lovejoy-Phelps ticket.
By George Hardeen
November 14, 2006