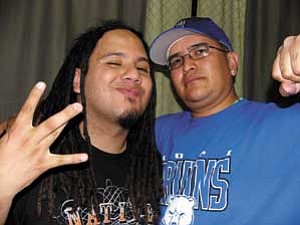 Photo by S.J. Wilson/Observer
Red Cloud, left, and Yaiva get together after the concert to talk to fans.
Stories this photo appears in:

KYKOTSMOVI — The doors of the Hopi Veterans Center in Kykotsmovi opened at 8 p.m. on March 3 for the second stop of the Native Movement Tour. Almost immediately young people drifted in, largely Hopi, but this was to be a multicultural event.