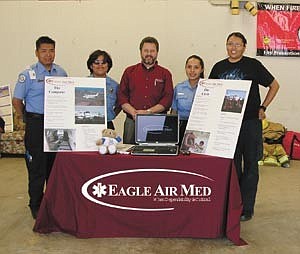 Courtesy photo
Chinle EMS and Eagle Air Med Celebrate National EMS Week at an Open House at the Chinle Fire Station. From left to right are Everrick Coggeshall, EMT-Intermediate, Jereline Begay, EMT-B, Eric Niven, Eagle Air Med, Jerlyn Thomas EMT-B and Angelita John EMT-B.
Stories this photo appears in:
CHINLE -- Emergency Medical Services (EMS) personnel in Chinle celebrated National EMS Week, May 14-20, with a variety of activities promoting health and safety awareness. The theme for this year's commemoration was "EMSÉServing on Health Care's Front Line."