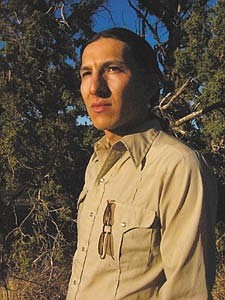 S.J. Wilson/Observer
Clayson Benally insists that he has no idea who put a toilet on the mayorÕs car.
Stories this photo appears in:
FLAGSTAFF ----Kelvin Long, one of many activists opposing the use of waste water in making snow at the Arizona Snowbowl, learned that Flagstaff Mayor Joe Donaldson had taken a comment he had made at a mayoral candidate's forum earlier this month as a threat to the mayor's safety, he was surprised.
By By S.J. Wilson
June 1, 2006