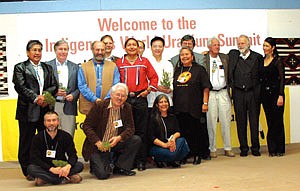 At left: Recipients of the 2006 Nuclear-Free Future Award and their presenters include, back row, left to right, Phil Harrison, Willem Malten, Paul Robinson, Many Pino, Feng Congde, Esther Yazzie-Lewis, Chris Shuey, Ed Grothus, Claus Biegert, Jill Momaday-Gray, front row, Wolfgang Scheffler and Eda Gordon (Photo by George Hardeen).
Stories this photo appears in:
WINDOW ROCK-Six individuals, including a Navajo chapter president and a Southwestern non-profit organization, were honored on Saturday, Dec. 3 with the 2006 Nuclear-Free Future Award during the first Indigenous World Uranium Summit.Red Valley Chapter President Phil Harrison was among the people honored for their efforts to resist the spread of nuclear proliferation and its waste while educating those their live near. Also honored was the Southwest Research and Information Center of Albuquerque which has assisted Navajos force the clean-up of closed and abandoned uranium mill tailing sites and most recently has helped prevent the re-introduction of uranium mining and processing in the Church Rock and Crownpoint, N.M., areas.The awards were presented during a banquet at the Navajo Nation Education Center.
By George Hardeen
December 12, 2006