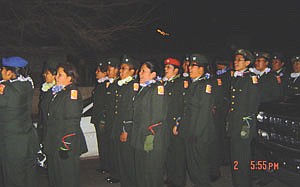 The Hopi JROTC Bruin Battalion marchies in the Holbrook parade. The Battalion is commanded by Battalion Commander cadet Lt. Cmdr. Lauren Lomatska, Cadet Major Jeremy Naha and cadet second Lt. Cmdr Brianna Puhuyesva (Photo by Cadet 2lt. Runda Perez/Hopi JROTC).
Stories this photo appears in:
HOLBROOK-The Hopi Junior ROTC cadets were excited to march in this year's Holbrook Parade of Lights despite the cold weather that night. This year, 51 cadets attended the parade, and were led by the Battalion Commander, Cadet LC. Lauren Lomatska, the Command Sergeant Major, Cadet CSM. Diane Koinva and Cadet 2lt. Brianna Puhuyesva.The parade lasted close to two hours and the cadets were cold but determined to complete this parade because they were representing their school, people, and themselves.
By By Cadet 2lt. Runda Perez, Battalion S-5
December 12, 2006