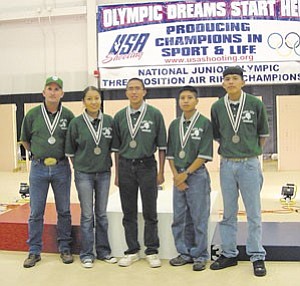 Rosanda Suetopka Thayer/TC District Media
2006 TC High Marine Corps Junior ROTC Marksmanship Team took 2nd Place at the National Olympic Championship.ÊFrom the left are Gunnery Sgt. Timothy Shaner, teacher/sponsor, Ashley Manygoats, Charles Lee, Darrin Talawepi and Darrell Robbins.
Stories this photo appears in:

TUBA CITY ----TC High Marine Corp Junior ROTC earned the right to represent the state of Arizona by winning the Arizona State Jr. Olympic Championship in April.