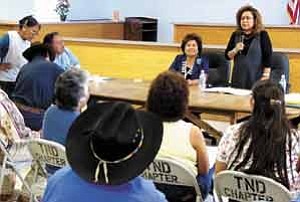 S.J. Wilson/Observer
Two residents, left, talk to Tuba City Chapter President Frank Biligody, while Cora Phillips explains Navajo Nation efforts in Washington on behalf of uranium victims. Coconino County Supervisor Louise Yellowman, seated at center, chaired the informational meeting.
Stories this photo appears in:

Share news on Radiation Exposure Compensation Act
TUBA CITY -- Uranium victims heard updated news concerning proposed RECA (Radiation Exposure Compensation Act, P.L. 101-426 during the Navajo Western Agency Uranium Victims Meeting on Sept. 29 at the Tuba City Chapter House.