Somana Yaiva/Observer
The "Story of Creation of Man," is one of Namoki's most popular designs. This piece took a period of several months to complete and is in the collection of Dr. John Niegro.
Stories this photo appears in: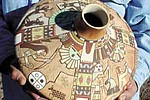 (EDITOR'S NOTE: Kuwan-venga, Somana Yaiva, an enrolled member of the Hopi Tribe from Hotevilla Chishi'diné Clan, is a textile artist and quilter with a background in oil and acrylic painting. Yaiva, comes from an artistic family including her late father, Steven Thayer of Wisconsin, a technical and creative writer as well as a noted public television producer. Her mother, Rosanda Suetopka, is a musician and wood artist. Kuwanvenga is Yaiva's Badger-Butterfly Clan name meaning beautiful colors. She was named by her godmother, Sonwai, Verma Nequatewa of Hotevilla Village, who is a world-renowned goldsmith and the niece of the late Charles Loloma.
By By Somana Yaiva
November 25, 2005