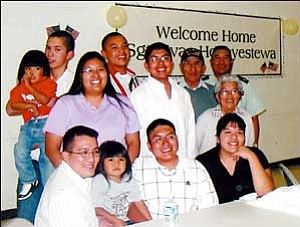 Courtesy photo
Proud family members surround Evan Honeyestewa at a welcome home feast in the village of Acoma. He is also pictured with his uncle Carl and his grandfather Luther Honeyestewa who is a Korean Veteran.
Stories this photo appears in: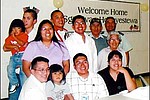 Sgt. Evan Honeyestewa, of the New Mexico National Guard 642 Maintenance Company based in Fort Bliss, Texas, returned from Taji, Iraq., returned to the states on March 30. On April 3, the pueblo of Acoma celebrated its soldier's return through a family gathering in the Governor's Auditorium.Sgt. Honeyestewa and his uncle Carl Honeyestewa, who prior to this served with the United States Marine Corp as staff sergeant with the 1404th Transportation Co 544 Maintenance Base at Camp Speicher in Tikrit, Iraq, are both currently on leave and face the possibility of being called back.
By By Esther Honeyestewa
May 11, 2005