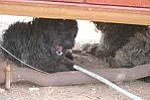 Photo by Jeff Pope
Barbara Lucero found these two shaggy dogs hiding under an abandoned car in the former city and railroad dump near her house. Since Lucero lives in Navajo County, Winslow1s Animal Shelter could not pick up the strays and the county does not have an animal control program yet.
Stories this photo appears in:
Living next to a former city and railroad company dumpsite, county resident Barbara Lucero has found discarded dining car dishes, medical bottles and other bits of Winslow's history.
By By Jeff Pope
June 22, 2005