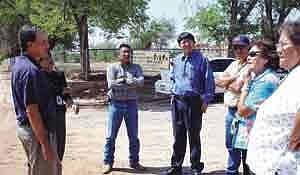 Byron Poocha,/TC District Media
Congressman Rick RenziÕs representatives, Jim Lester and Walter Phelps, met with Tuba City District officials on Aug. 5 to see firsthand the seriousness of the deteriorated, potholed condition of Main Street. Both Phelps and Lester agreed that the road was in serious disrepair and vowed to assist the TC District to look into state funding to fix the road that is under the jurisdiction of the BIA. Louise YellowmanÕs Coconino County office, along with Ron Begay, TC District Support Services, also provided assistance.

Stories this photo appears in:
TUBA CITY -- The holes are anywhere from 20 to 30 inches across and they are up to seven inches deep. There are 83 of them on the 2/10ths of a mile section of Main Street in Tuba City. The road is 2 miles long and is of one of the most heavily used roads in town.
By By Rosanda Suetopka Thayer
August 11, 2005