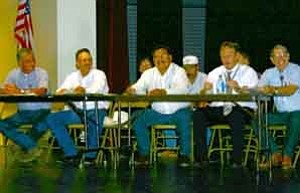 Photo by Jeff Pope
The Winslow Levee Committee met at Winslow High School on Aug. 3 to hear public comments on decertification of the levee. The committee includes Winslow resident Jim O1Haco (left), Supervisors J.R. DeSpain and Jesse Thompson and Navajo County Public Works Director Dusty Parsons. Mayor Jim Boles (right) also attended but is not a committee member.
Stories this photo appears in:

County officials ready to submit studies to FEMA to decertify Winslow Levee after receiving public comments
County officials said they were expecting to have to answer many questions at Wednesday's public hearing regarding decertification of the Winslow Levee. However, of the approximately 30 people who attended the meeting, just two spoke and the hearing was over in about an hour.