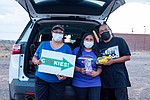 Jordyn Talahytewa, a Girl Scout with the Cactus-Pine troop and member of the Hopi Tribe and Sun Clan, expressed her gratitude to those who had helped her become one the highest cookie selling Girl Scouts in Arizona, with 10,813 boxes of cookies sold.
By Gilbert Honanie, Navajo-Hopi Observer
September 7, 2021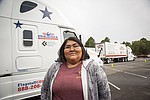 Flagstaff resident Lisa Black is a single mother of two children and she needed a job — a good job.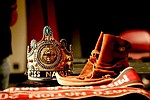 Miss Navajo Nation Shaandiin Parrish donated several items to the Navajo Nation Museum in Window Rock, Arizona, Aug. 27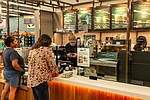 With much anticipation and people lining up at 6 a.m., Bashas' Diné Market Tuba City opened its doors for Starbucks patrons Aug. 21.
By Gilbert Honanie, Navajo-Hopi Observer
August 24, 2021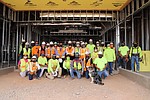 On Aug. 18, Navajo Nation President Jonathan Nez and Vice President Myron Lizer toured the construction site for the new Lukachukai Community School.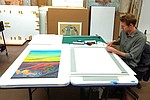 The Museum of Northern Arizona announced that more than 2,000 paintings, sketches, prints and other works of art on paper are receiving improved storage, as well as an online presence because of a $343,812 grant from the National Endowment for the Humanities.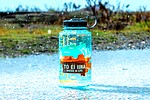 Six months after pledging to help the Navajo Nation battle its water crisis, well-known company Nalgene says its Tó éí iiná bottle is one of the company's most popular products.
By Aliyah Chavez, Indian Country Today
August 24, 2021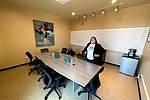 As Navajo and Hopi Families COVID-19 Relief transitions into rebuilding and revitalizing communities on the Navajo and Hopi reservations, it celebrated the soft-opening of The Tsé Bii' Ndzisgaii Community Center in Monument Valley Aug. 2.
Navajo Nation President Jonathan Nez, Council Delegate Thomas Walker, Jr., Navajo County Supervisor Alberto Peshlakai, and Birdsprings Chapter officials joined community members and local leaders on Thursday in Birdsprings, Arizona, to mark the start of construction of a nearly seven-mile stretch of N71 that will include pavement of the existing dirt road.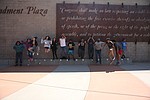 The 2021 Andy Harvey Indigenous Youth Media Workshop finished up Aug. 7 at Northern Arizona Univeristy in what was a challenging year for students and staff alike.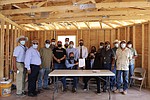 In 2018, the Navajo Veterans Housing Program was established to initiate the process of building suitable homes for Navajo veterans using a portion of the Veterans Trust Fund income.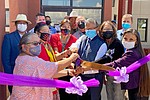 Vice President Myron Lizer said it is important to continue to address domestic violence and other issues on the reservation.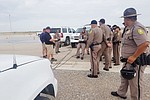 The group returned to the academy July 19 for a full week of traffic-related training.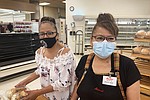 Bashas' Diné Market opened July 21 in Shiprock, New Mexico.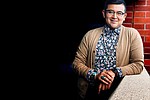 The summit is the largest and longest-running national American Indian business event in the nation.