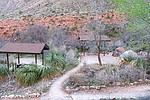 At a Sept. 15 stakeholder meeting, National Park Service (NPS) Deputy Superintendent Brian Drapeaux announced that Grand Canyon National Park is in the process of pursuing changing the name of Indian Garden to Havasupai Garden.
By Lo Frisby, Navajo-Hopi Observer
September 21, 2021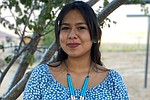 Amber Labahe, a graduate of Hopi High School's media program, is one of five students selected nationally for the $10,000 Native American Journalists Association (NAJA) Facebook Journalism Project Scholarship.
Department of Interior Secretary Deb Haaland was married Aug. 28 in New Mexico.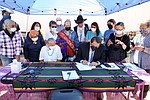 On Sept. 4, Navajo Nation President Jonathan Nez was joined by elders and families in Tonalea, Arizona as he finalized a sub-grant agreement between the Navajo Nation and Navajo Tribal Utility Authority to extend power lines to homes in the community, which will provide long-awaited electricity to at least 23 the families — many of whom have lived their entire lives without electricity.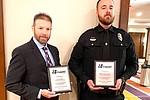 Winslow Mayor also attended the event and offered his congratulations.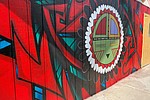 A vision is finally coming together at the Murdoch Community Center in Flagstaff, in which black and Indigenous and LatinX cultures will be prominently displayed through dynamic painted murals on the entrance facing Butler Street.
By Ricardo Guthrie, Special to the Navajo-Hopi Observer
September 7, 2021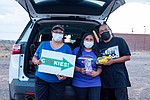 Jordyn Talahytewa, a Girl Scout with the Cactus-Pine troop and member of the Hopi Tribe and Sun Clan, expressed her gratitude to those who had helped her become one the highest cookie selling Girl Scouts in Arizona, with 10,813 boxes of cookies sold.
By Gilbert Honanie, Navajo-Hopi Observer
September 7, 2021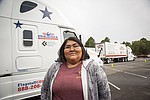 Flagstaff resident Lisa Black is a single mother of two children and she needed a job — a good job.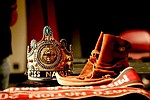 Miss Navajo Nation Shaandiin Parrish donated several items to the Navajo Nation Museum in Window Rock, Arizona, Aug. 27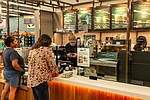 With much anticipation and people lining up at 6 a.m., Bashas' Diné Market Tuba City opened its doors for Starbucks patrons Aug. 21.
By Gilbert Honanie, Navajo-Hopi Observer
August 24, 2021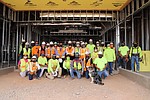 On Aug. 18, Navajo Nation President Jonathan Nez and Vice President Myron Lizer toured the construction site for the new Lukachukai Community School.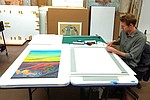 The Museum of Northern Arizona announced that more than 2,000 paintings, sketches, prints and other works of art on paper are receiving improved storage, as well as an online presence because of a $343,812 grant from the National Endowment for the Humanities.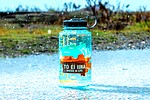 Six months after pledging to help the Navajo Nation battle its water crisis, well-known company Nalgene says its Tó éí iiná bottle is one of the company's most popular products.
By Aliyah Chavez, Indian Country Today
August 24, 2021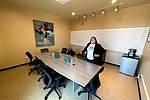 As Navajo and Hopi Families COVID-19 Relief transitions into rebuilding and revitalizing communities on the Navajo and Hopi reservations, it celebrated the soft-opening of The Tsé Bii' Ndzisgaii Community Center in Monument Valley Aug. 2.
Navajo Nation President Jonathan Nez, Council Delegate Thomas Walker, Jr., Navajo County Supervisor Alberto Peshlakai, and Birdsprings Chapter officials joined community members and local leaders on Thursday in Birdsprings, Arizona, to mark the start of construction of a nearly seven-mile stretch of N71 that will include pavement of the existing dirt road.