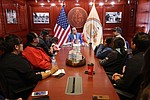 WINDOW ROCK, Ariz. — Navajo Nation President Buu Nygren has signed a groundbreaking contract valued at nearly $780,000 with One Day At A Time Club, Inc., located in Fort Defiance, Arizona.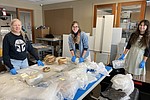 The Museum of Northern Arizona recently received a large donation of historic and contemporary Hopi and other Pueblo pottery.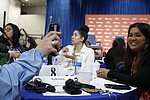 WASHINGTON — Gabriella Nakai said she has tackled the challenges facing Indigenous communities on her own, but that being surrounded by others who share her passion makes the load a little lighter.
By Lux Butler, Cronkite News
November 28, 2023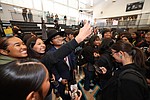 FARMINGTON, N.M.— Navajo Nation President Buu Nygren signed emergency legislation on Nov. 2 before the student body of Navajo Preparatory School to provide $3 million to build a new residential building.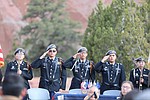 Navajo veterans were honored last week during several events planned across the Navajo Nation, including the Marine Corps Birthday Ball and the Gallup High JROTC Veterans Day Event.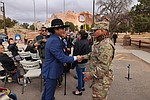 WINDOW ROCK, Ariz. — Navajo veterans of all branches, the Code Talkers, and the 248th U.S. Marine Corps Birthday were honored at a proclamation signing at Window Rock Veterans Memorial Park on Veterans Day, Nov. 11.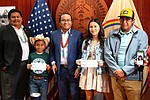 WINDOW ROCK, Ariz. — Youth who participated in the Navajo Nation Junior Livestock Show and Sale during the 74th annual Navajo Nation Fair in September 2022 can finally breathe a sigh of relief — thanks to Navajo Nation President Buu Nygren.
KYKOTSMOVI, Ariz. — The Hopi Tutskwa Permaculture Institute in the village of Kykotsmovi recently received a $250K rural business development grant from the U.S. Department of Agriculture.
By Alexandra Wittenberg, Navajo-Hopi Observer
November 14, 2023
MOAB, Utah — Navajo ultra runner Timberlin Henderson made history by securing first place at the Canyonlands 100 Mile Ultra in Moab, Utah Oct. 28-29.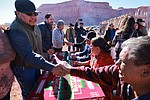 MONUMENT VALLEY, Ariz. — In a momentous occasion echoing with cultural significance, Navajo Nation President Buu Nygren, flanked by key members of the Navajo Nation Council, signed the contract to acquire the iconic Goulding's Trading Post and Lodge. Nestled between the rugged sandstone cliffs of Oljato and Monument Valley, this historic property has not only been a local landmark but also a vital cultural and economic hub for the Navajo people for nearly a century.
Northland Pioneer College (NPC) recently celebrated Indigenous Peoples' Day with events at the college's tribal locations in Holbrook, Hopi, Kayenta, Whiteriver, and Winslow on October 9, 2023.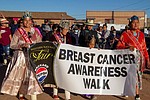 TUBA CITY, Ariz. — Women leaders of the Navajo Nation showed solidarity with relatives and survivors of breast cancer during the annual Breast Cancer Awareness Walk Oct. 26.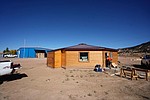 TSE BONITO, N.M. — The Navajo Nation Veteran Administration's prototype hogan's front doorway now faces east as it should.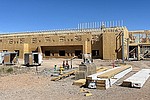 CLARKDALE — Construction is well underway for a new hotel near Tuzigoot National Monument that is funded by the Hopi Tribe Economic Development Corporation.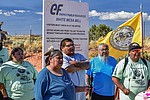 WHITE MESA, Utah — The day before the second anniversary of Bears Ears National Monument's restoration and two days before Indigenous Peoples Day, tribal members from several Indigenous communities joined other supporters for the annual White Mesa spiritual walk and protest Oct. 7.
By Tim Peterson, Grand Canyon Trust
October 24, 2023
Prev Next