Museum of Northern Arizona: "Moving from Appropriation to Authenticity"
Alexandra Wittenberg, Navajo-Hopi Observer
Originally Published: September 26, 2023 10:31 a.m.
FLAGSTAFF, Ariz. — The Museum of Northern Arizona hosted it's first in a three-part series on cultural appropriation on Sept. 17, titled, "Moving from Appropriation to Authenticity."
Panelists included Santa Fe jeweler Liz Wallace, who appeared at the Flagstaff museum via Zoom, Mark Bahti of Bahti Indian Arts near Tucson, and Heard Museum Director of Community Engagement Marcus Monenkerit.
Wallace says her work is influenced by the silver making of her Diné ancestors and the basketry made by her Nisenan and Washo ancestors. Her parents Alan Wallace and Kathryn Morsea are renowned artists in their own right.
But like many Indigenous artists, Wallace has been affected by fake Native jewelry flooding the market, with the average consumer choosing to purchase cheaper knock-offs and money going into pockets of non-Natives.
"We are the only people in the entire world that can make Native American jewelry, and Native-style jewelry is popular all over the world," Wallace said. "It's wild how popular the reference to Native American-ness is, but how little authenticity there is out there."
The trio talked about the shortcomings of the Indian Arts and Crafts Act which in theory prohibits falsely proclaiming an art piece is made by American Indians. A first time violator can see themselves with a 5-year prison term and/or fines up to $250,000 with businesses fined up to $1 million, but it has proved difficult to enforce.
"We can't seem to get the prosecutors to see this and treat it as a crime of the severity and scope that it is," Bahti said of counterfeits. "This impacts the artists, the artists' family, the artists' community. It has a huge ripple effect."
The U.S. and Canada are some of the few countries with protection laws, and many of the fakes are from outside the country.
"The best way to take care of this is at the border, where it's coming in," Monenkerit said. "Once it gets into embarkment, and into the shops, it's almost impossible – very difficult to determine unless you're holding these pieces in your hand – and (the imposters) are knowledgeable about the art forms. They're very good."
U.S. Secretary of the Interior Deb Haaland, of the Laguna Pueblo, has taken the issue of enforcing the Indian Arts and Crafts Act under her wing and introduced the draft for the Amendments to Respect Traditional Indigenous Skill and Talent (ARTIST) Act in March. However, polls from listening sessions in the Southwest done between April and August show largely negative support.
Bahti doesn't think the way the ARTIST act is drafted now will help, and he doesn't think any Native artists or collectors were consulted. Monenkerit agreed, saying the act seemed to come out of nowhere, and he doesn't know of any Indian artists that want the changes as they are being proposed.
"I've got to get a semi-truck to get through the loopholes. It's appalling," Bahti said.
As its currently written, the ARTIST act would mean tougher crackdowns and allow federal officers to arrest, search and seize suspected violators, but will also give some non-Native laborers the right to work under a larger Native title in some situations, which could appeal to large manufacturers.
"What really, really concerned me was the proposal that things that were Native-designed and mass-produced elsewhere could be called Native-made," Wallace said. "I have a huge, huge issue with that, because if that went into law, then a Navajo jeweler could send their designs to the same Filipino manufacturers that got busted in 2015, have their jewelry made, they could be bought back here, sold and even brought to (big) shows as Native-American made."
How can buyers and sellers help?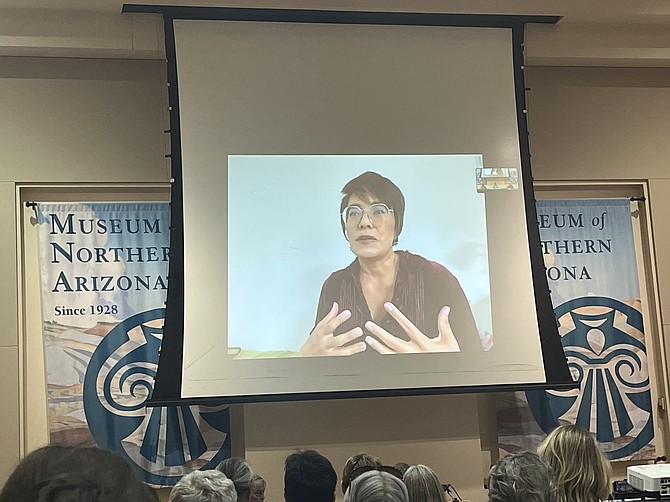 Wallace said the average consumer isn't going to want to pay extra for what looks like the same artwork at a non-Native shop.
"I think we need to elevate the image of Native Arts and Crafts, and explain why it's so valuable, and why it has meaning, and why it's so important to Native communities and why it's so special," Wallace said.
Native American art shows and ethical galleries go a long way in educating consumers with that information, but a lot of phony ones remain, he said.
Bahti said as the internet has expanded on the reservation, it has become a good tool for artists to interact with consumers.
"As internet has come to more remote areas of the reservation, artists are now using Facebook or Instagram to reach their customers directly," he said. "If you're out there on Facebook as an artist, and you're trying to pull a fast one, the artists are going to oust you by the next morning. It's a good place where you can meet an artist and develop a relationship, and learn about their work and buy with a high level of security."
But Wallace argued that the problem will remain in some capacity until Native Americans themselves are valued more as a whole.
"Our artwork isn't valued as this national treasure and I think that right there is the fundamental problem," Wallace said. "We as Native people, we're not valued and that's one of the reasons they call it economic colonialism. Because to me it's just an extension of…first it was stealing the land, it was stealing our culture, it was stealing our resources…and now its exploiting our artwork and exploiting our identities and stealing our identities in some cases. And until that changes, until we are seen as valuable and as real people…we're always going to keep getting these problems."
The Museum of Northern Arizona is holding a second panel discussion called, "More Than a Meal," will take place Nov. 5. Panelists include Chef Jaren Bates (Diné), Chef Brett Vibber, and Toasted Sister podcast producer Andi Murphy (Diné). The third panel discussion titled, "Drawing Cultural Inspiration," will be Jan. 5 and include Tewa artist Jason Garcia and Museum of Indian Arts and Culture Curator of Ethnology Antonio Chavarri.

SUBMIT FEEDBACK
Click Below to: