Celebration at Rumble on the Mountain
Musicians, dancers, activists join Ed Kabotie for discussion of new Grand Canyon monument in Flagstaff
Alexandra Wittenberg, Navajo-Hopi Observer
Originally Published: September 19, 2023 9:58 a.m.
FLAGSTAFF, Ariz. — At the ninth annual Rumble on the Mountain event at Northern Arizona University on Sept. 9, the Baaj Nwaavjo I'tah Kukveni Ancestral Footprints of the Grand Canyon National Monument was celebrated with members of the Havasupai, Navajo and Hopi tribes, Grand Canyon wildlife advocates and the community.
Hosted by self-proclaimed "Edu-tainer" Ed Kabotie, a Hopi musician and activist, this year's event had music and dance by Ryon Polequaptewa and Havasupai tribal members, a screening of Deidra Peaches' "Voices of the Grand Canyon," and a discussion of the new monument.
The panel, which featured former Havasupai Tribal Councilmember Stuart Chavez, Sierra Club Program Manager for the Grand Canyon Region Alicyn Gitlin, and Wild Arizona Executive Director Kelly Burke, had a sad undertone as threats of uranium mining on the new monument remain despite President Joe Biden's proclamation of the monument at Red Butte, Ariz. Aug. 8.
Numerous tribes thought the new monument status would protect their sacred lands, but a spokesperson from Energy Fuels Inc. recently said in an interview that mining will continue at Pinyon Plain Mine, located in the monument's footprint 6 miles southeast of Tusayan.
"All National Monuments are subject to valid existing rights," said Energy Fuels' Vice President of Marketing and Corporate Development Curtis Moore in an interview with Native News Online, adding that Energy Fuels has valid rights through the federal courts.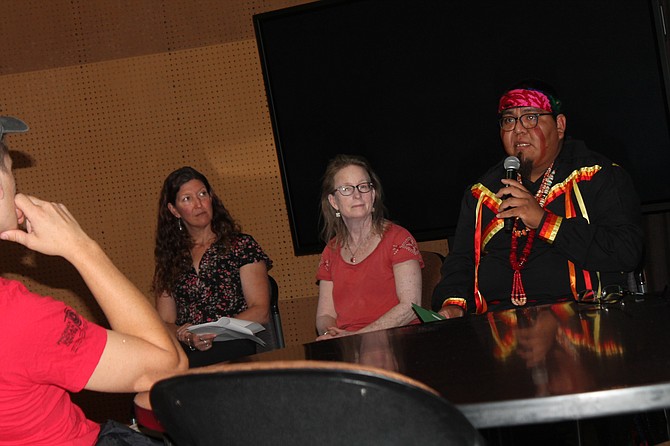 Pinyon Mine, formerly Canyon Uranium Mine, covers 17 acres near the Grand Canyon. The company claims there is approximately 1.6 million lbs. of uranium at the site, but Energy Fuels has not mined in 30 years, partly due to uranium prices not favoring new production, they told Kaibab National Forest representatives.
But Moore said that Pinyon Mine will begin mining again in the next few years. Once the uranium is depleted, Moore said the company plans to reclaim the land to its original state, but no plans of how this will be done have been announced.
"There were hundreds of uranium mining claims that were active at the time that the monument was proclaimed," Gitlin said during the panel discussion.
While the monument status will stop most of those mines from moving forward, it doesn't stop all.
"Those mines that have what is called a 'valid existing right' – which means that they have demonstrated already that there is uranium in the ground and that it has an economic value that makes it worth it for the mining companies to extract it – are still going to be allowed to move forward with their mines," Gitlin said. "There could be a few more that open up and begin operations or that reopen from previous operations. And only time will tell."
As far as Pinyon Mine, Gitlin said that despite the Sierra Club, Havasupai Tribe and NGO's taking them to court through the years, Pinyon Mine has always won because it was found to have a valid existing right.
"It's very hard to determine what that means, because that mine started digging in the 1980s. And it is now 2023," Gitlin said. "And they have not extracted an ounce of ore for commercial production. Yet they still claim that it is economically viable. So obviously my definition of what is something that tends to be economically viable is very different than the federal government."
Although they haven't extracted anything for years, Pinyon Mine should be able to maintain their claim for as long as they want if they can convince the federal government that they still have a valid claim, Gitlin said.
"When it comes time for them to actually open the mine, that's when the Forest Service or the Bureau of Land Management will review the evidence that they put forward and decide whether those mines are able to be open or not," he said.
Burke talked about how Biden using his authority to proclaim the monument through the Antiquities Act of 1906 makes it more solid than the temporary mining bans that were previously in place.
"You add not only the protection that the withdrawal provided, because that's part of what a monument designation does -- it automatically withdraws the area from mining -- you add protection through a management plan and the actions that are taken to implement that plan," Burke said.
These can't just be overturned by a new administration, as the temporary mining withdrawals could have been.
"When they wrote the Antiquities Act, it's only four paragraphs, and it's very simple. And it leaves a lot to the President's discretion, the executive discretion," Burke said. "And that has actually been an extraordinary thing, because a lot has changed since 1906. And now, we have a lot more reasons as to why advancement is important to detect…So that power of Antiquities at the discretion of the president has been a really powerful tool."
Gitlin explained that the monument will continue to be managed by the US Forest Service and the Bureau of Land Management, but the Grand Canyon Tribal Coalition – with members of the Havasupai, Hopi, Hualapai, Navajo Zuni, Pauites and more — will work together with them "to figure out what that balance will be and how that will actually be executed."
"The battle's not over. That's the reality here. There's always going to be something that you're always going to step up and fight for," Chavez said. "The commission – the interesting thing about the national monument under the proclamation is it gives and addresses the one thing that Indigenous people have always found difficult from the beginning. It gives our voice back. It gives the people the opportunity to be at the table. That's why so many people are upset. That's why it is a huge step for everybody, especially the Indigenous people who were all involved…there's so much more that needs to be done. This isn't the end."
Vernon Masayesva, Executive Director of Black Mesa Trust, and former Chairman of the Hopi Tribal Council explained that the Hopi say the Colorado River and Grand Canyon are a sanctuary.
"It's a safe place for all mankind," Masayesva said. "Together you and I have the capacity to envision the next world. And with our pen and our ability to communicate, we can make it happen. You and I can make it happen."
Entertainment from the Rumble event is on tour through Arizona and California, finishing on Oct. 1 at the National Museum of the American Indian in Washington D.C., with a four hour "Native Voices of the Grand Canyon" show.
SUBMIT FEEDBACK
Click Below to: