Red Mesa Tapaha Solar Farm to provide power to several Navajo Nation chapters
Originally Published: September 12, 2023 10:27 a.m.
RED MESA, Ariz. — The Navajo Nation is celebrating the opening of the newly developed Red Mesa Tapaha Solar Farm, which will power several communities across state lines including three chapters within the Navajo Nation.
Navajo Nation President Buu Nygren joined Navajo Nation Council's Resources and Development Committee Chair Brenda Jesus and community members for a ribbon cutting ceremony commemorating the event Aug. 25.
"At my very core, I want to thank the grazing permit holders, the Dishface family who gave up their land, gave up their grazing rights and gave their consent for a project of this magnitude," Jesus said.
Red Mesa Tapaha is the site of the 72 megawatt, 500-acre project that will power several communities for the next 25 years, generating tax revenue for the tribal government. In addition, six of the 72 megawatts generated will specifically serve the Navajo Nation.
According to the Resource and Development Committee, Navajo Tribal Utility Authority (NTUA) General Manager Walter Haase, was instrumental in Light Up Navajo projects that have connected many Navajo homes to the electricity grid. Haase and the NTUA Board Members plan to utilize excess margins from the Red Mesa Tapaha plant to provide scholarships to local Navajo communities, while committing to stabilizing Navajo residential electric rates. Haase said NTUA will put aside additional funds to connect over 13,000 families to the electricity grid and to broadband.
Thirteen communities in Utah and two in California are slated to purchase electricity from the Red Mesa Tapaha plant which will provide financial benefits to the Navajo Nation.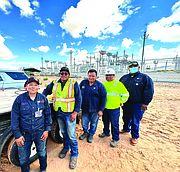 "This project is a great example of working with the local community, the chapter, grazing permittees, and the Navajo Nation Council Resource and Development Committee who played a huge part in making this happen," said Arash Moalemi, NTUA deputy general manager.
Utah Associated Municipal Power Systems (UAMPS) is a non-profit electric utility organization that focuses on community beneficial projects to network with, and provide mutual aid to communities in need.
UAMPS Chief Executive Officer Mason Baker expressed his appreciation for the continued partnership with NTUA and to the Navajo people. He acknowledged the dedication of the Dishface family who gave up their grazing rights, demonstrating their sacrifice to invest in renewable energy projects. He also extended his gratitude on behalf of UAMPS to take part in this historic project and looks forward to future partnerships with the Nation.
Construction of the solar farm started in June 2022 and was completed in the spring of 2023. The Red Mesa Tapaha Solar Farm was officially commissioned in June 2023 and is currently generating power.
Information provided by Red Mesa Tapaha Solar Farm.
SUBMIT FEEDBACK
Click Below to: