Holbrook Cross Country takes title at Rick Baker Invite
Marilyn R. Sheldon, Navajo-Hopi Observer
Originally Published: September 12, 2023 10:34 a.m.
FLAGSTAFF, Ariz. — Jerald Nez' cross country team is off to a great start. The Holbrook boys' team scored 76 points at the Rick Baker XC Invititational on Aug. 29 to win the competition. The Roadrunners finished in the following order: Leyton Tom, Kenneth Nez, Tristen Attakia, Trevor Taylor, Rylan Bia and William Nez.
The girls also had success at the Rick Baker meet. Freshman Hannah Nez, finishing 13th, and experienced senior runner Raelle Yazzie led the team. Isabella Winslow, a senior, was praised by Nez for her strong work ethic.
On Sept. 2, the team traveled to Flagstaff for the Peaks Cross Country Invitational hosted by Flagstaff High School. The boys finished fourth overall in the Summit Division. Runners Ian Masayesva, Kelton Reidhead, Tom, Kenneth Nez, Taylor, William Nez, and Travis Bia rounded out the Holbrook team.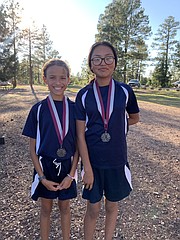 For the girls, Hannah Nez, fishing 39th, blazed the way, chopping almost a minute off her previous time at the Hopi Invitational earlier in the week. Yazzie was the next highest finisher for the Roadrunners with 47th place, and a time of 25:12.
Nez said he is excited about his team's prospects for the season.
"The season is early and we are confident we will get better," he said. "This year we have a group of boys that really enjoy each other and encourage each other to do well. They are a truly selfless team that is learning what it takes to run as a team at the highest level."
Four of the team's top seven runners are sophomores. Nez noted the leadership and advice from the upperclassmen Kenneth Nez, Attikai, Taylor, and Tom is invaluable for their younger teammates.
"They're getting the advice they wished they had when they were coming up and our younger boys are benefitting greatly," Nez said. "I call the younger runners my sensational sophomores because they are getting faster and looking to compete for varsity positions on the team this season. We are looking forward to our next few races and to keep getting better."
Nez also mentioned several girls have recently joined the team, which enables them to enter the team competitions. Sophomores Demia Gonnie and Briannon Roanhorse, along with freshman Peyton Tsosie, ran their first races in Window Rock this past week. As of press time, results were not available.
SUBMIT FEEDBACK
Click Below to: