Northland Pioneer College celebrates Indigenous peoples
Collegewide events recognize and honor native students, communities and the importance of education
Originally Published: October 31, 2023 1:30 p.m.
Northland Pioneer College (NPC) recently celebrated Indigenous Peoples' Day with events at the college's tribal locations in Holbrook, Hopi, Kayenta, Whiteriver, and Winslow on October 9, 2023. The events brought tribal and college leadership, staff, and students together, and paid tribute to the collaborative efforts and ongoing support between the tribes, NPC, and the communities the college serves.
NPC's Winslow campus hosted a variety of fun activities including an American Indian Sports Heritage workshop. Led by Brenda Charley, owner, and operator of Heritage Health and Human Performance, NPC students and staff learned about and participated in various games that native ancestors played in years past. One of the games, titled "Have you seen my Fishy" originates from the tribal cultures of the West Coast. During the game, one person hides a fish, and as a team, the group tries to find it. It requires teamwork and working together as one unit. According to Charley, an important belief of Native American life is that you can learn while you play and play while you learn. She weaves discussion and stories into the activities providing a more culturally meaningful connection to physical activity and the sport. "The activities incorporate concepts of resilience, teamwork, health- and sport-related fitness," she says. For example, "Double Ball" involves throwing two balls tied together to a team member using a stick (which is customarily wound with buckskin). "Long ago, the game was played between many people spanning several miles apart so that everyone in the tribe could get involved," she explains. Another set of games called the "Eskimo games" originate from tribes in Alaska and were originally designed to teach children (and adults) to be tough and resilient living in hard winter climates.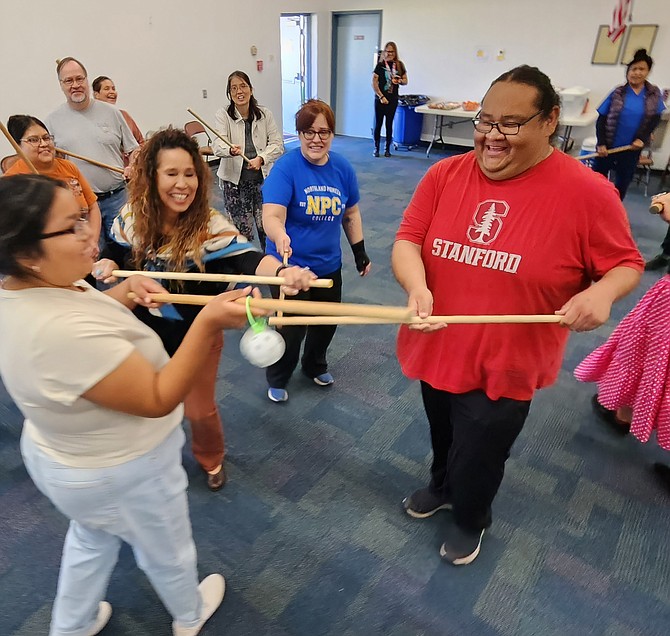 Across the county 114 miles away, at NPC's Whiteriver Center, students, staff, alumni, and the public were invited to tour the campus and enjoy a traditional meal of fresh frybread prepared by staff members. One of the frybread chefs was NPC student Autumn Sprengler, who plans to become a pharmacist. She completed NPC's pharmacy tech program and will be transferring to the University of Arizona to continue her studies. She currently works in the front office at NPC's Whiteriver Center. Sprengler's supervisor, NPC Assistant to the Center Manager Rachel Antonio, says, "Autumn is a natural at just about everything she does. She is so smart and talented; she picks up everything so fast and does a great job." The participants at the Whiteriver Center seemingly agreed as they enjoyed the frybread meal she helped prepare. Indeed, making the frybread was a first for her. She laughingly admits, "Frybread is typically my sisters' job. I do the tortillas."
At NPC's Holbrook location, eventgoers enjoyed learning how to prepare traditional Navajo blue corn mush. The entrée is made of blue corn flour, juniper ash, and water and is similar to cream of wheat. Because lactose intolerance is common among the Navajo people, juniper ash is a natural supplement. One gram of ash contains about as much calcium as a glass of milk. To create the ash, a juniper tree is burned, and the ash is collected. In the case of blue corn mush, cooks add about a teaspoon of this nutritious powder to the pot.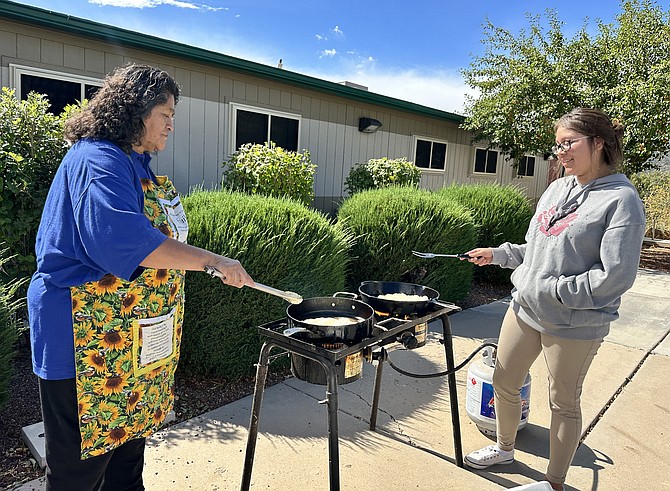 At NPC's Hopi Center, it was movie day complete with popcorn paired with another traditional corn-based meal, "nu-quivi' (Hopi term), or simply hominy stew which is usually served at ceremonies. Meanwhile, in Kayenta, participants shared a meal of fresh frybread, and bean soup prepared on-site.
NPC's Indigenous Peoples' Day events were organized by the college's Eagle Club, a student organization that promotes awareness of multiculturalism at NPC. NPC Eagle Club staff adviser, Shandiin Deputee notes, that the on-campus activities were designed to honor and celebrate the heritage and invaluable contributions, leadership, and unwavering perseverance of indigenous peoples. Overall, NPC covers the nation's second-largest community college service area, spanning 21,158 square miles with nine locations in Navajo and Apache counties, including the tribal homelands of the Navajo, Hopi, and Apache peoples and the Laguna pueblo.
For more information on NPC's Eagle Club and activities visit the Eagle Club's social media page www.facebook.com/npceagleclub.
SUBMIT FEEDBACK
Click Below to: