Lessons from the Set: Hopi actress Pershlie 'Perci' Ami on her first film
Alexandra Wittenberg, Navajo-Hopi Observer
Originally Published: October 31, 2023 11:48 a.m.
Pershlie "Perci" Ami had an already impressive resume before she starred in "Touch the Water."
The Hopi actress from the Village of Walpi is a boarding school survivor who shared her story with Interior Secretary Deb Haaland in January. In 2014, as part of her involvement as a grandmother with Rainbow Journey, she gave the opening prayer at the World Climate Change Parade in New York in front of 400,000 people as a delegate to the U.N, which she says is her biggest achievment.
She is a master trainer with the Native American Leadership Academy and for the past 23 years has done motivational speaking and training workshops to elevate tribal organizations. She is also an author with a book coming out later this year.
But acting in her first movie at 66 presented Ami with immense challenges, and she says there was a steep learning curve. She spoke with the Navajo-Hopi Observer to share the many lessons she learned on the set.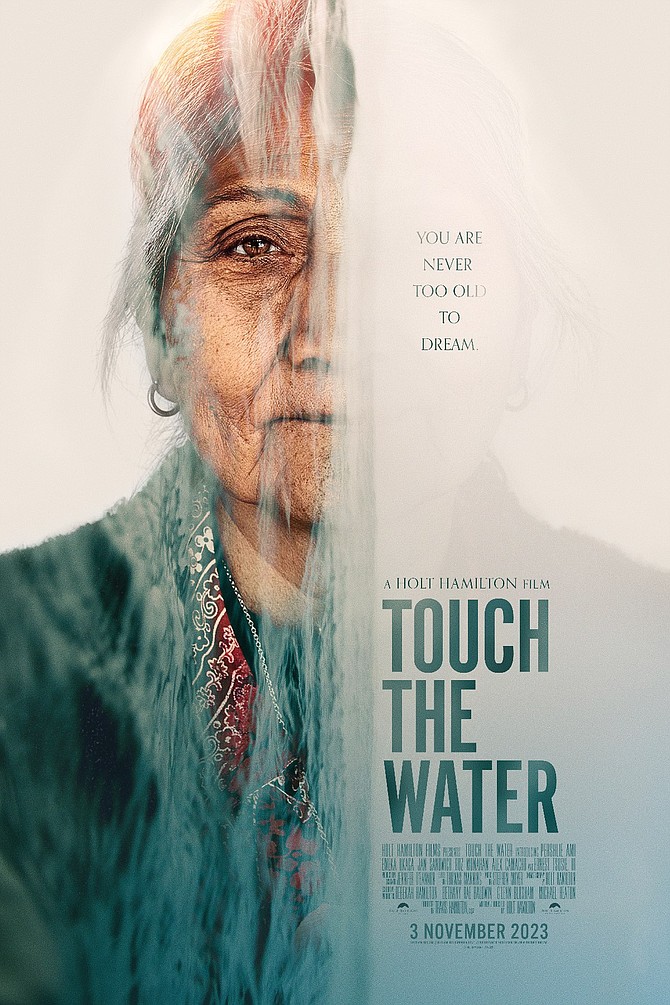 You don't have to do everything on your own
When Ami began on "Touch the Water," she found herself overwhelmed with professional actors all around her. She felt like a failure because she couldn't memorize her lines.
"I'm beating my head against the wall trying to memorize the lines and then the trick is that they don't go in sequence. You film when you have the location and you get all that location filming done. And so I couldn't memorize the lines in sequence. So I was just like, 'what in the heck am I doing?'"
She later learned that others on the set were there to help her.
"I learned that I could do cue cards, I could call for lines, I could do all this stuff."
It's not all about you
Ami said the first week filming was "pure agony," and filmmaker Travis Hamilton was continually having to cut, redo and reset his shots.
"Finally I went up to Travis and I went, 'this obviously isn't working…I'm wasting your time…obviously I'm not doing it right.' and he said, 'And what makes you think it's all about you? In this world, it could be the lighting, it could be the sound, it could be something fell. There are so many reasons why we cut. And you're doing a great job. So it's not about you.'"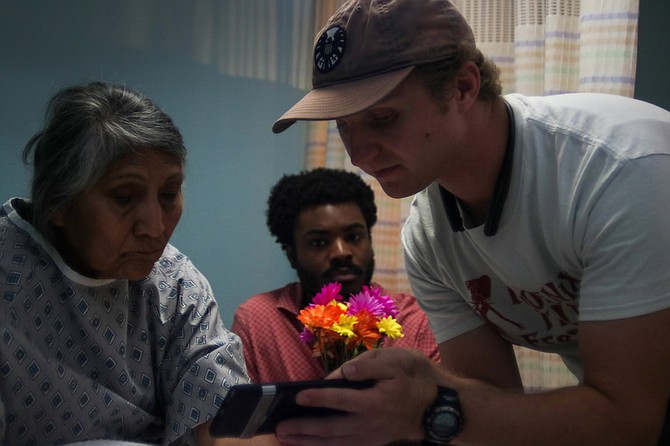 Leave things be
"I was constantly moving things on the set. And it's all about continuity. I'm a painter and we had a painting scene, and I moved the paints around because I thought 'this isn't the way I would do it' and Travis is like, 'Who moved the set?!' and I was like, 'uhh…I did.' So I learned to just be still, be quiet and just wait 'til they said action.'"
Sacrifices must be made
Ami learned that being a film star in a low-budget film was not too glamorous.
"We didn't have top of the line hotel accommodations, I had to make sure that I could get places relying on my husband ... They were filming in Mesa and I live in Laveen, and sometimes we had to be on set at 4 a.m., which meant I had to leave Laveen at 2 a.m. to get across town."
Ami had to also take a break with some of her work in the community, which she is very much involved with.
"So, not major sacrifices, but just making adjustments to my style of living. Once we got the filming it was pretty intense."
Fake it 'til you make it
The film takes place in the winter, but was shot around Phoenix over the summer, where the temperatures reached well over 110 F.
"There's one scene in the van where I have a jacket on cause it's supposed to be cold outside. We cannot run the air conditioning because it would interfere with the sound… and I'm packing vegetables because (the crew has placed) frozen peas, frozen corn, everything frozen packed around me and you don't see it."
Help is everywhere
"I did learn a huge respect for the crew. The lighting, the sound, the productions, the costumes, everything. I couldn't have done what I did if it wasn't for any of those people. They are the film. They keep you on cue, they make sure your dressed properly…I was just amazed by what they were able to do and I'm so grateful to them."
You're never too old to try something new
"To the elders, I want to give a message that we're not dead yet, so stop acting like we are. There's so much in life that you can do. Take a risk. I mean, I would have never imagined that I'd be making a movie. It's all about not cutting your life short just because you get old."
SUBMIT FEEDBACK
Click Below to: