50th annual Louis Tewanima Footrace a reminder of Hopi struggles and successes
Rosanda Suetopka Thayer, Navajo-Hopi Observer
Originally Published: October 10, 2023 7 a.m.
SHUNGOPAVI, Ariz. — This past 2023 Labor Day weekend was the much anticipated 50th anniversary of the annual Louis Tewanima Footrace held at Shungopavi Village.
There isn't a more real, true story of an American hero with worldwide running recognition coming from a deeply humble background than the story of Louis Tewanima, an enrolled Hopi tribal member from the traditional Second Mesa Hopi village of Shungopavi, Arizona.
Tewanima's remarkable journey began in 1906 when he was captured and taken hostage by government agents to be "re-educated" at the Carlisle Indian Industrial School in Carlisle, Pennsylvania. Under the guidance of Carlisle coach, Glenn S. "Pop" Warner, Tewanima emerged as a long-distance running champion, earning acclaim at the highest level.

Tewanima not only was representing the Hopi Indian Nation but also was representing the United States in the 1908 Olympics in London, England and in the 1912 Olympics in Stockholm, Sweden where he competed alongside his esteemed Carlisle teammate and fellow Native from the Sac and Fox tribe, Jim Thorpe.
At the Stockholm Olympics, Tewanima won the silver medal in the 10,000-meter run, setting a US Olympic record that endured for an impressive 50 years before it was broken by another Native American, Billy Mills in 1964.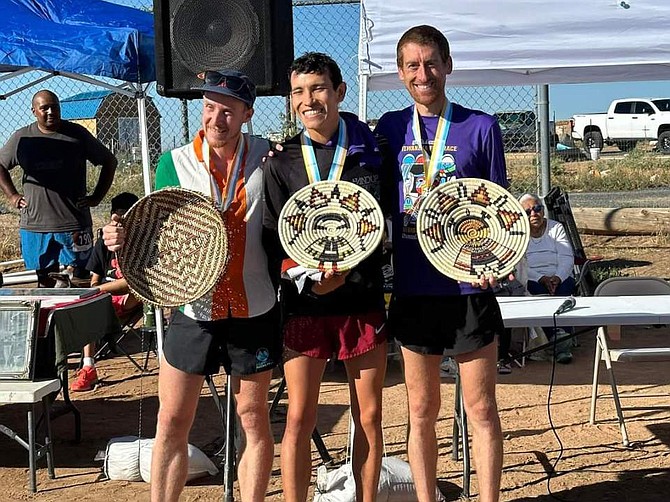 But back when Tewanima won huge being the first Native ever to win such a medal and be recognized world wide for his silver medal, no one at his remote Hopi homeland even knew of such fame and massive recognition.

Though its been 111 years since Tewanima brought home the silver medal for the United States at the Stockholm Olympics games, its been since 1973 that Tewanima's Shungopavi family wanted to honor and recognize their family member by holding an annual running event.
For Hopis, running is a revered and highly respected activity that accompanies both cultural and religious Hopi village life.

Hopis run in competition in their home villages during winter Basket Dance competition events against their own village members.

Hopis also ran to send and deliver messages to others if their village was under attack, including participating in the historic Pueblo Revolt where tribal runners came all the way from New Mexico pueblos to Old Oraibi on Third Mesa in an underground, secretly organized relay run involving both New Mexico Pueblo and Hopi men to warn of Spanish intruders.

Hopis also run to send prayers for much needed moisture and rain for their crops and people's livelihood.
It is with these thoughts in mind, Tewanima's current Hopi family in Shungopavi carry on their annual, now nationally recognized race event because the trail run on is a genuine historic Hopi mesa top trail, with steep stone steps in some areas, super sandy soil and fast turns on a switchback, windy trail in seriously high elevation that challenges both Native and non-Native professional runners alike.
This years' winners were all serious professional runners who took home the top, museum quality traditionally made Hopi art prizes for their running excellence.
But there were also young local Hopi and non-native students who had never run before in such a grueling race and tribal members representing several tribes out of state, who came to support the 50th annual Hopi historic run.
All the participants, Native and non-Native were loudly cheered on by the throng of on-lookers, family members and visiting tourists standing on the mesa edge cliff in the dawning sun September 3rd.
There were several new features at this 50th anniversary run which included a full life size photo cutout of Louis Tewanima, all five foot 3 inches high, so that runners and visitors could take a personal "selfie" with the Hopi hero. The cutout was donated by Bill Crawford, a successful writer who lives in Monterey, Mexico and is currently working on the new Tewanima historical fiction book which is due out next March 2024.
Along with the winning art prize objects was a specially commissioned miniature Hopi Sitsaya (sifter) basket given to recognize the runner who had come the furthest to be in the event. A runner from Alaska was given this special basket art object.
Channels 3 and 5 Phoenix news stations were also on hand, capturing runners race start and shots of the mesa top with race participants on the historic trail.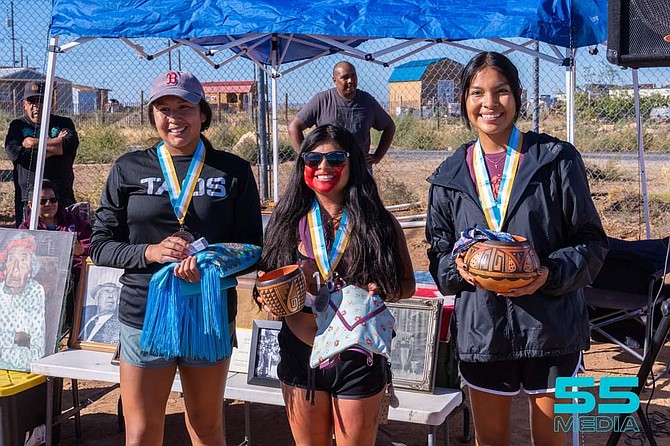 Top winning runners for the men's 10K:
1st place: Mike Popejoy, Flagstaff, Arizona- 00:37:31
2nd place: Hosava Kretzmann, Flagstaff, Arizona- 00:39:20
3rd place: Ruairi Moynihan, Flagstaff, Arizona -00:40:49
Top winners for women's 10K:
1st place: Katie McGee, Flagstaff, Arizona 00:51:08

2nd Place: Alvina Begay, Flagstaff, Arizona 00:55:21
3rd place: Crystal Brown, Gilbert, Arizona 00:55:36
Top winners for women's 5K:
1st place: Mikayla Numkena, Tuba City, Arizona 00:25:56
2nd place: Mariah Zavala, Flagstaff, Arizona 00:26:59
3rd place: Ellen Cornfield, Rio Rancho, New Mexico 00:28:48
Top winners for men's 5K:
1st place: Michael Adams, Polacca, Arizona 00:21:59
2nd place: Damian Cling, Flagstaff, Arizona 00:23:29
3rd place: Kristopher Namoki, Second Mesa, Arizona 00:24:11
Tewanima Board President Ron Milford was extremely pleased with the entire Labor Day weekend event.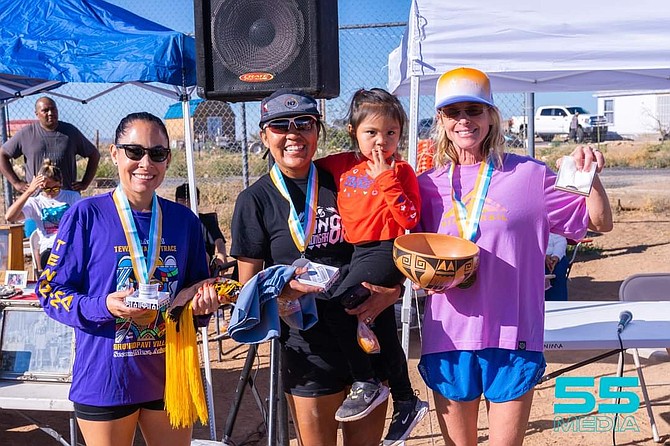 From the registration, which was a record number of runners for both 5K and 10K this year, to the trail prep which requires several male family members and volunteers to prepare days before and day of race, to the runners meal the night before the event, to the 3 am wake up call to start the race at 6am to final presentation of the top ART prizes to clean up and election of new officers for the next year.
"We are so extremely pleased with how well everything went this year with all the volunteers who help every year to some new faces that stopped in to offer their time and donations of bottled water, fresh fruit and hand labor. I am beyond grateful on behalf of myself and my committee members. We are honored and humbled by all the support, prayers, good wishes and positive energy from all who were involved." said Milford.
Outgoing 2022-23 Tewanima committee members are: Ron Milford-President, Jaynas Saufkie-Vice President, Marnette Quanimtewa-Treasurer, Madelyn Milford-Secretary.
After the 2023 race, the Tewanima Committee Foundation met to elect new 2023-24 officers.
Incoming new officers are, Wayne Taylor Jr.-President, Sam Taylor-Vice President, Waukera Taylor-Secretary and Marietta Honie-Treasurer.
SUBMIT FEEDBACK
Click Below to: