"Running with Changing Woman" explores kinaaldá and the important role of young Navajo women
Alexandra Wittenberg, Navajo-Hopi Observer
Originally Published: October 3, 2023 6:50 a.m.
"Running with Changing Woman" is a new young adult novel by Lorinda Martinez.
The book centers around Samantha, a Navajo girl attending Atsá Mesa Community School on the Navajo Reservation. Her life has seemed pretty average when one day at school her body suddenly changes. As a Diné, Samantha must now prepare for the Diné womanhood ceremony called the kinaaldá, a ceremony once performed by the Navajo deity, Changing Woman. With her life now filled with more drama than ever before, she's reluctant to participate in the demanding four-day ceremony. With a whirlwind of new adventures and pep talks from those closest to her, Sam's family and her two best friends do their best to help Sam deal with bullies, boys, and her new responsibilities as a Diné woman.
Martinez wrote her first book, "Running with Changing Woman," during the pandemic. The book is based on Martinez's experiences growing up on the reservation in Pueblo Pintado, New Mexico, east of Chaco Canyon, where her father was a school bus driver. Her experiences helped shape the young adult novelist's protagonist, Samantha.
Martinez currently teaches fourth grade in Farmington, New Mexico, and used her experience as a middle school teacher on and off the reservation to further chip out Samantha.
In the book, Samantha finds herself the laughing stock of the class when a red stain on the back of her pants is pointed out by mean girl Brenda. Although she tries to keep the secret from her mother, a laundry mishap leads to revelation, and Samantha finds herself preparing for a four-day kinaaldá ceremony, which she thinks is a waste of time and money. Slowly she learns the importance of the ceremony and how it connects her closer to her culture and family.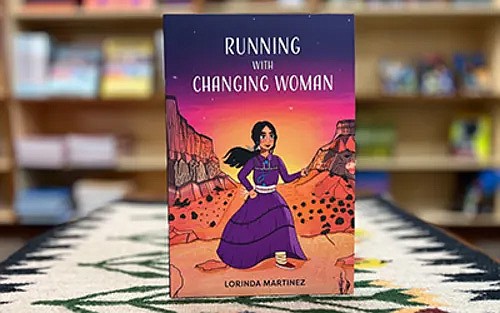 Would you say Sam is based on your experiences as a child on the reservation or as a middle school teacher?
I think it's a mix. When I read through "Running with Changing Woman," sometimes I feel like it's a lot of my childhood but then I think I try to throw in a modern take on it too. Of course, as a teacher you observe your students' mannerisms, how they behave with each other, and how they act when they think an adult is not watching them.
A lot of new things are happening in middle school. The students are hitting puberty, they have all these new emotions, and there are new conflicts coming out that never used to be an issue.
As a teacher, sometimes I look at my students and think, 'did I act like that when I was their age?' As you get older you do find that all the things that were so important when you were a kid aren't, compared to now with all our bills etc. I tend to keep that in mind because some things you'd think, 'it's not a big deal, why are you getting upset about this?' But you have to remember it is a big deal to them. So I tried to bring that feeling back. I have to go back and remember...boys and having crushes and talking about them with your friends is important.
What is an example of an experience from your own family you brought into "Running with Changing Woman"?
Sam's mom says a prayer while they're driving by Tsoodził. That's what we used to do when we were kids, whenever we would drive by any sacred mountain we would pull out the tádídíín, the corn pollen, and my dad would say a prayer or my mom would say a prayer. Then we would bless ourselves afterwards. So I brought that into the story, just like little tidbits that I had growing up on the reservation.
It was really nice for me to write this book. It reminded me of the teachings I've had and the people I've had in my life that were so important to me. It really helped me reflect on my childhood too, growing up on the reservation. When you get older and start to live off the reservation you just kind of miss that connection...you start to develop other habits.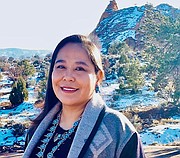 How did your personal kinaaldá ceremony compare to Samantha's?
When I had mine, my mom and I went to Shonto, Ariz. where my grandma lived. When I got there I was with the elders. I want to say it was right before school started, in the fall of my fifth-grade year, so everyone was busy with work and school. My mom didn't want to take any of the other kids out of school. I was kind of doing the running by myself, I was doing the corn grinding by myself. … but more family came at the end. So in that sense it was similar, family would come and drop off materials, sometimes family would bring food or corn or things to help with the ceremony, but for the most part it was me and my mom.
Like Samantha, I was afraid. Growing up, we were afraid to get (our period) in a sense because we knew that the ceremony would be coming up and it just seemed like so much work. Part of the ceremony is to make you tough, to make you a hard worker. I remember my sister's ceremony and she kind of struggled too. So when it was my turn I was a little nervous and scared. Samantha had the same experience with her older sister.
What are the takeaways from kinaaldá ceremonies?
One of the things that happened from the ceremony is you learn to appreciate it. I wasn't resistant like Sam, I didn't vocalize my fear to my mom, but in my mind, I was like, 'why do I have to have the ceremony, it's hard.' But as you get older you realize it does help you stay strong. It helps you do these things that you're going to be facing in life, so it does prepare you for your future.
I still remember at my ceremony, looking out at all the people that were there. I think about the way my family was showing how much they loved me. They really took that time to say that this is worth it for you. As an adult I realize now the money that was put into it, the time that was put into it, it's a lot, and they did it just for me. I think that was for me a big embrace, I think about how much my family loves me and it makes me happy.
This is your first published book. How did it come to be?
I think it was a story that started with a conversation. I talked to my husband about writing children's books. I remember having a conversation with another individual about basing the book on the kinaaldá, and she thought it was a good idea. That's when I thought maybe I should write a book about that experience.
Sometimes you start a book and then it just kind of fizzles out. I think with Sam's story, after writing that first paragraph I liked how that sounded, and then I just started working on it. Eventually, it just turned into what it was. I submitted the first few chapters to Salina Bookshelf Inc. From there I got help from the editor, Tyler Mitchel. We would go back and forth on how the book was developing.
Do you have plans to write more books?
I'd like to do more books in the future. Navajo ceremonies would be a good niche to write, though for me I think I've got to do my research and be mindful. Certain ceremonies or certain parts of Navajo culture, people want to keep within the culture.
The kinaaldá is more like a community ceremony. The more people that come to eat and to partake and to be part of the ceremony adds to the effectiveness of it... I think i'd want to be careful on how I approach (other ceremonies) and how I deliver it, so that might take some time.
Interview has been edited for brevity and clarity.
SUBMIT FEEDBACK
Click Below to: