To'hajiilee residents to see long-awaited water pipeline in early 2024
Community members have questions about the project, which promises clean, reliable water access
Gabriel Porter, Source NM
Originally Published: November 21, 2023 8:15 a.m.
TO'HAJIILEE, NM — When the water pipeline to her community finally gets built, Shanna Chischilly won't have to be so vigilant in making sure her 8-year-old daughter doesn't get water in her mouth when she's showering.
Janice Platero can say goodbye to the camp bag shower she uses when the community well breaks down.
Ophelia Joe and her son won't have to walk to her mother's house to bathe and cook anymore.
After years of snail's pace progress, a long-awaited pipeline project connecting To'hajiilee to the Albuquerque-Bernalillo County water system is finally out to bid. Leaders now anticipate breaking ground in spring 2024.
For some in To'hajiilee, the promise of construction in the near future means hope that one of the greatest challenges of day-to-day life in the small Navajo community west of Albuquerque could fundamentally change.
But it also has raised questions about how exactly the new water supply will be billed and administered, how far across the reservation it will reach — and why reliable access to water is taking so long.
With bids out, residents will still have to wait months to see the benefits. The project is estimated to be completed in fall 2025.
"I would absolutely, definitely love it," said Joe, who was born and raised in To'hajiilee. "I wish this had been situated a long time ago, that my grandmother would have enjoyed water a long time ago."
Chischilly, another Navajo Nation citizen, who also grew up in To'hajiilee, said she thinks people in the community are generally excited about the pipeline. After experiencing multiple delays she said it's hard to know how long it will actually take.
"It's one of those things that you're promised," Chischilly said. "You tend to get your hopes high, and then all of a sudden it's prolonging."
Long-term problems, roadblock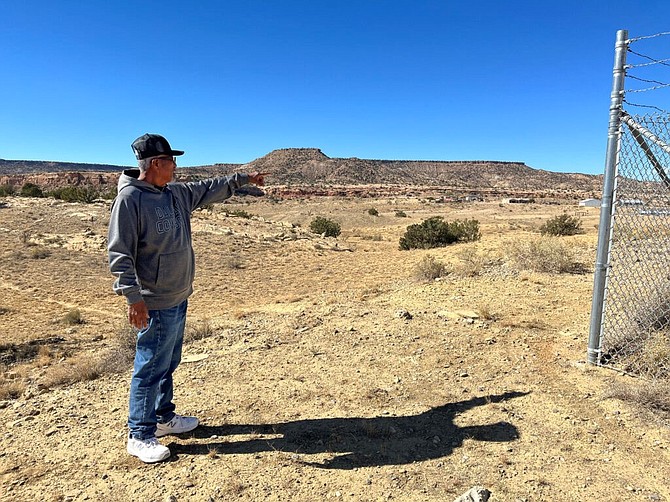 Access to clean, reliable water has been a problem in To'hajiilee for decades, said Mark Begay (Navajo), former chapter president and now-retired longtime operator of the community's water system.
To'hajiilee, which Begay said has a population of about 2,500, has six community wells. Only one is still functional, and it occasionally breaks down. In October, the well went out for several days, leaving parts of the community without running water for about a week, Begay said.
Even when the well is functioning, its water is corrosive and hard. This causes equipment failures and requires residents to be diligent for rust and other pollutants that can cause harm.
Begay said conversations about hooking up to the Albuquerque-Bernalillo County Water Utility system have been ongoing for years, and picked up steam in 2020 when the community received federal funds to put toward the project.
The effort hit a roadblock when To'hajiilee began trying to secure easements from property owners, including Western Albuquerque Land Holdings.
The firm initially wouldn't negotiate the easement that would stretch over a little more than two miles of its land, the site of the proposed Santolina development.
The dispute drew attention, and a number of county, state and tribal officials got involved in negotiations.
In November 2020, To'hajiilee came to an agreement with Western Albuquerque Land Holdings for an undisclosed amount.
Begay said it was an emotional day when he learned that a deal had been struck.
"I got on my knees and I said, 'Thank you, Creator, thank you, Lord,'" he said.
Project plan
The pipeline will run 7.5 miles from the 7W Reservoir on Albuquerque's West Side.
Funding for the project is coming from the American Rescue Plan Act, the state Water Trust Board and the state Tribal Infrastructure Fund, according to the water utility authority. It's estimated to cost $10-$12 million.
The water will be leased by the Navajo Nation from the Jicarilla Apache Nation, according to Andrew Robertson, an engineer with Souder, Miller & Associates, the firm contracted by the Navajo Nation on the project.
The Navajo Nation will pay for the water rights, easements and design costs, he said.
The firm has overseen significant renovations of To'hajiilee's existing water system in the last couple years.
That includes replacing miles of asbestos concrete water lines with PVC lines, rehabilitating tanks and building a new booster station to increase water pressure in one part of the community, according to George Mihalik, another Souder, Miller & Associates engineer.
The timeline for constructing the actual pipeline has been delayed from earlier estimates.
Leaders originally hoped to break ground last summer. Now they're looking at starting construction sometime in spring of 2024, with a tentative end date of fall 2025.
David Laughlin, division manager for the Albuquerque Bernalillo County Water Utility Authority's planning and engineering department, said design complexities, the regulatory approval process and securing funding all played a role in that delay.
"It's definitely a very complicated project," Laughlin said, adding that the funding question will not be fully settled until all bids are in.
Estimated To'hajiilee water pipeline timeline
December 2023: Bid proposals due
January 2024: Notice of bid award, followed by procurement process
March-May 2024: Ground-breaking ceremony, start of construction
Fall of 2025: End of construction
Source: Albuquerque Bernalillo County Water Utility Authority
Questions about the new system
Joe, Platero and Chischilly all said they have questions about the new system, including how fees will be structured and how much the water will cost residents.
To'hajiilee residents on the local water system currently pay a flat fee.
When the pipeline is built, the chapter will locally manage distribution of water within the community. Laughlin said the community will determine how it bills users.
Begay said he's not sure about the chapter's plans.
Current To'hajiilee Chapter President Jimmy Secatero could not be reached for comment on this story.
Platero (Navajo) has been living in To'hajiilee, her husband's hometown, for about 40 years. She said she would like to know whether there are plans to eventually serve households that aren't hooked up to the existing water system.
"That's a question too," she said. " Are they going to extend it to our north families and our families at the end of the roads?"
Staffing may also be an issue.
Begay technically retired from managing the water system several years ago, although he's still working on the system for Souder, Miller & Associates.
Begay said his former position has been posted for years, but nobody has been hired yet.
Problems continuing
Meanwhile, To'hajiilee residents are still dealing with water issues day to day.
Last year, Joe and her 8-year-old son moved into a brand new home her father built on her grandmother's allotment.
The home hasn't been connected to the community water system and still has no running water.
Begay said an internal report performed by Souder, Miller & Associates, on behalf of the Navajo Nation about 10 years ago, showed that adding more than the roughly 350 connections currently on the community water system would endanger the water supply.
"It cannot sustain more homes," Begay said. "We're not hooking up any more homes, because you're going to be overloading the system."
The new water pipeline will alleviate concerns about supply, according to Mihalik, and will allow more homes near the main water lines to hook up to To'hajiilee's water distribution system.
Chischilly said the water she gets in her home irritates her skin, and she has to regularly check for rust and clean the water line to her washing machine.
Platero said she can't have a dishwasher or an ice maker on her refrigerator.
"We've always had to keep buying water heaters," she said. "They start rumbling, and then you have to make sure you empty it out and dump hydrogen peroxide back in it, because it starts to smell."
Orlando Yazzie, facility manager for the Canoncito Health Clinic in To'hajiilee, said repairing and replacing equipment and machinery is a regular need because of the harsh quality of the water.
"This water eats away at … my water heater, electrical nodes … all my equipment over here," he said. "It's constantly breaking all my stuff."
Occasionally boil advisories go out when bacteria spreads in the system.
Chischilly said the water smell and quality are especially poor at the East To'hajiilee housing complex, where she used to live.
"There's rust all over your toilet, all over the … showerhead and in the tub," she said. "… It smells like sulfur really, really bad."
When the well goes down, things get tougher.
Regular chores like cleaning baby bottles or watering livestock become major challenges.
The health clinic steps in to help distribute bottled water, but people still need to haul their own water to meet their needs.
It gets expensive, Joe said, and is especially difficult for people who don't own a truck, or who don't have a vehicle at all.
The health clinic moves to a skeleton crew and closes to community members.
Brennia Thomas (Navajo), a public health nurse at the clinic, said wound care becomes difficult and elderly people using outhouses during water outages are at risk to fall.
Joe, Chischilly and Platero said people are frustrated with how long water improvements have taken to come.
Chischilly said she chose to return to To'hajiilee after moving away because it's home and she wanted her daughter to grow up like she did — including learning to be resilient in the face of things like an uncertain water supply.
"The good thing with our community is that they can adapt easily, because it's not new," Chischilly said. "… (But) it shouldn't be that way."
Joe said she's seen the same problems since she was a little girl.
"You have this preaching about 'water is life, water is sacred,'" she said. "But then it's like, what are you doing about it?"
SUBMIT FEEDBACK
Click Below to: