New proclamation designates Nov. 10 as Navajo Marine Day
Originally Published: November 20, 2023 4:32 p.m.
WINDOW ROCK, Ariz. — Navajo veterans of all branches, the Code Talkers, and the 248th U.S. Marine Corps Birthday were honored at a proclamation signing at Window Rock Veterans Memorial Park on Veterans Day, Nov. 11.
Navajo Nation President Buu Nygren was joined by Vice President Richelle Montoya, Speaker Crystalyne Curley, Chief Justice JoAnn Jayne, Veterans Administration Executive Director Bobbi Ann Baldwin, several Council Delegates, and Diné veterans to sign the Navajo Nation Veterans Day and U.S. Marine Corps 248th Birthday proclamations.
"We are eternally grateful for the sacrifices made by our Navajo veterans," Nygren said. "They put their lives on the line to defend our freedoms and protect our homeland. This proclamation is a small way to show our appreciation for everything they've done."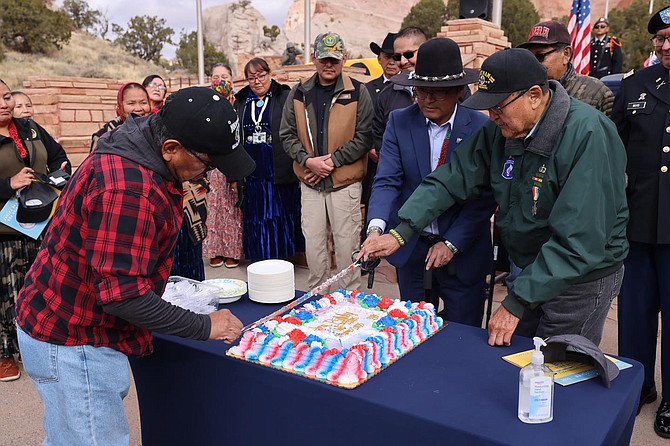 The Marine Corps proclamation designates Nov. 10 as Navajo Marine Day on the Navajo Nation.
"Today, I want to provide my remarks not only as leadership of the Navajo Nation but also as a wife of a veteran, a granddaughter of a veteran, and a daughter and a niece," Curley said. "I'm pretty sure almost all of us here throughout the Navajo Nation have a veteran in our family."
She said it gives families a sense of humility that they stand beside the veterans and that they understand what they experienced.
"As family members, we hear all the stories, the sad stories, and the things that they have been through physically, emotionally, spiritually," she said. "Today I encourage all of us to remember that and to be patient and to be there for our veterans."
Director Baldwin said there are nearly 20,000 Navajo veterans who have bravely served in the U.S. Armed Forces. She said Diné warriors have fought in every American war over the past century defending the country.
The proclamation encourages Navajo communities to hold commemorative events to honor veterans as well.
The signing ceremony kicked off several events planned across the Navajo Nation to recognize the sacrifices of all who have served in the U.S. armed forces. Veterans Day offers an opportunity for the Navajo people to express their deep gratitude and respect.
SUBMIT FEEDBACK
Click Below to: