En Garde: Hopi teen carves his mark
Fencing has yet to catch on in Indigenous communities. Connor Poleyumptewa hopes to change that.
Dalton Walker, Indian Country Today
Originally Published: November 7, 2023 10:14 a.m.
PHOENIX — For teenager Connor Poleyumptewa, his favorite combat sport reminds him of a complicated and extreme version of the hand game rock-paper-scissors. He must be swift with his hands and feet, and even faster with his decision-making to have any shot at winning.
Except, of course, Poleyumptewa has a blade and so does his opponent.
"There is no unbeatable action, everything has a counter," he said.
For roughly the last 24 months, the 15-year-old Poleyumptewa, Hopi, has dedicated hours each week to sword-fighting at his Phoenix fencing club. The sport has taken him across the country to Colorado, Missouri, Utah and California to compete.
"It's all about the mistakes that you make," Poleyumptewa said. "If you lose in a fencing bout, you can't blame it on someone else, everything is on you, you did something wrong somewhere in there. Something about that constant need for self improvement really drew me in."
On a Sunday morning in July, Poleyumptewa stood with friends. They were decked out in their fencing uniforms, biding their time for their next bout among the dozens taking place at a national tournament at the Phoenix Convention Center. Yet, the teenager stood alone, figuratively.
Fencing is an international sport. It's popular in many places. It has yet to catch on in Indian Country, or among Native youth like basketball, football or hockey.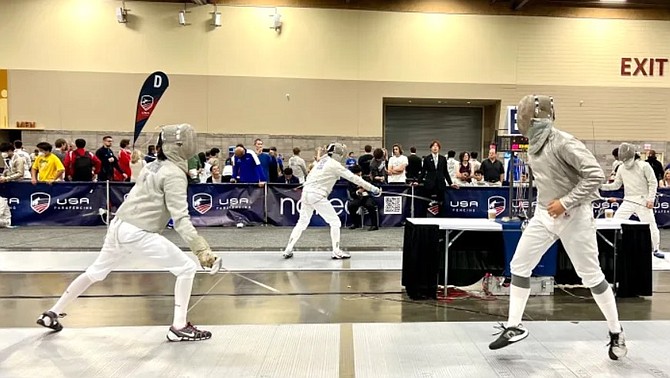 Poleyumptewa was believed to be the only Native fencer in Phoenix that competed in the 2023 USA Fencing National Championships and July Challenge, according to organizers. More than 5,000 fencers from 43 different states ages 7 to 85 competed in the highly-competitive, 10-day event.
Recently, the 2023 North American Indigenous Games took place in Canada and featured hundreds of Native athletes competing in 16 sports in an Olympics-type atmosphere. Sports included archery, rifle shooting, badminton, among others. It didn't include fencing.
"I don't think I've ever competed against someone I knew was Native," he said.
Poleyumptewa said he's the only Native fencer at his local club and diversity lacks in the sport that's dominated by White and Asian people.
Fencing is a sport that can demand financial resources, a fact Poleyumptewa knows and quickly thanked his parents and grandparents for their support. Poleyumptewa said he is going to take a break from fencing this school year and focus on his school marching band through at least November.
Fencing has three different styles in foil, épée and sabre. Poleyumptewa competes in sabre, which essentially means fencers can use the entire blade to earn points that hit above the opponents waist except their off hand.
Poleyumptewa has length and he's one of the taller athletes for his age nearing 6-feet. His thin frame is quick on the mat. He pumps his fist sometimes when he wins a bout point. His focus is his opponent with his ears to his club coach who regularly stands by. After each bout, he meets with his club coach for a quick chat about his strengths and weaknesses.
Poleyumptewa said he loves competing and a bonus is meeting so many new people and traveling to new places.
"It's something I'm proud of myself for doing. It's been about two years now, and in that time it's been a massive part of my life."
SUBMIT FEEDBACK
Click Below to: