Deidra Peaches: Preserving history through storytelling
Diné filmmaker's new short documentary illuminates the sacred significance of the canyon to the community who has inhabited it for centuries
Originally Published: March 21, 2023 10:47 a.m.
Updated as of Monday, April 10, 2023 2:53 PM
GRAND CANYON, Ariz. — Navajo filmmaker Deidra Peaches sees her documentary "Voices of the Grand Canyon" as giving the Indigenous narrative that is often overlooked when people talk about the history of Grand Canyon National Park.
"Voices of the Grand Canyon" has been aired at many film festivals, but was just recently posted online in conjunction with Grand Canyon National Park's 104th anniversary Feb. 26.
The documentary was made in conjunction with the Grand Canyon Trust, who financed the project.
Peaches, who served as the producer and co-editor, references how Native Americans feel Grand Canyon National Park is a sacred place for both their creation stories and their ancestral groups.
There are 11 tribes with historic connections to Grand Canyon National Park.
Those on screen include Leigh Kuwanwisiwma from the Hopi Tribe, Nikki Cooley from Navajo, Jim Enote from Zuni, Coleen Kaska from Havasupai, and Loretta Jackson-Kelly from Hualapai.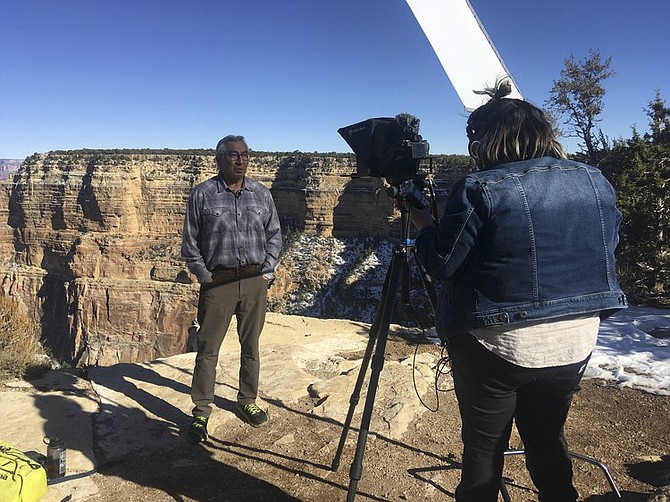 Jake Hoyungowa intended to be the cinematographer but he passed away before filming began.
Kuwanwisiwma spoke about how the archaeological sites are the footprints that show the evidence that the Hopi clans passed through there.
Cooley, the first Diné woman to serve as a commercial river guide in the Grand Canyon, describes how the Navajo fled to the Grand Canyon in the 1800s to hide from the U.S. Army.
Cooley calls Grand Canyon National Park a sacred place that must be treated carefully and respectfully and not as a theme park.
Kaska recounts how the Havasupai people were pushed off their ancestral land on the South Rim to make way for tourists.
"Voices of the Grand Canyon" has been a long process for Peaches as she became interested in the project in 2015 after going participating in a 10-day river trip with Hoyungowa from Lees Ferry to Phantom Ranch. But in 2019, Hoyungowa passed away while the project was still in the planning stages.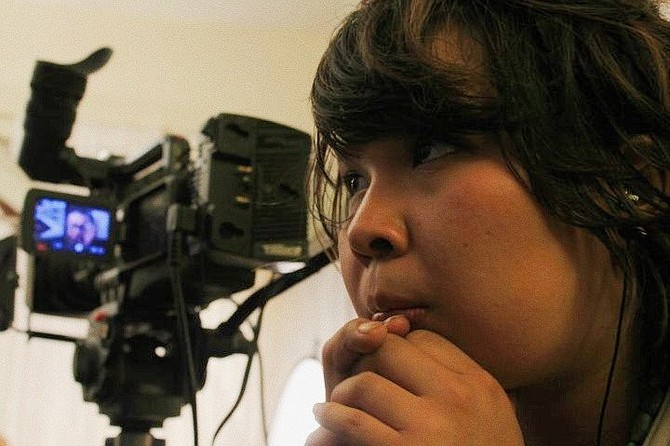 A meeting of different tribal members brought back the conversation about the Grand Canyon and that is when the Grand Canyon Trust reached out to Peaches. Soon after, the pandemic happened and that again paused the documentary.
Peaches said the Grand Canyon is a marvel to her because its vastness goes on forever. She remembers going on a field trip with Thomas Elementary School in Flagstaff when she was a child. One thing that struck her at the time was not being able to see the Colorado River from the top. When she was 12, she remembers going on a small river trip from Glen Canyon Dam.
"It was a phenomenal experience," she said. "Even the wind is different down there. There is a calmness to the wind and water. It is not as intense unless you come to a rapid. When you are just wading, it's like you are moving in unison. It's there for perpetuating the survival of everything in the ecosystem."
Peaches said it was an honor to work with people from so many tribes.
"The cool part was those on screen picked the locations they wanted," she said. "That made them feel comfortable and that's important. It was completely rewarding and I'm indebted for the knowledge they were willing to share."
Peaches said the motivation behind "Voices of the Grand Canyon" has been that it is a project to uplift Native voices and give a true history of what happened in the area.
"I wanted it to be given respect and we accomplished that," she said.
Peaches is happy that the documentary is now shown at the Grand Canyon Visitor Center. It was also shown at the North Rim Amphitheater. She said it was highly approved by audiences at film festivals
"People would watch it and say 'Wow. I had no idea," she said. "Visitors acknowledged Indigenous ties to the land."
Peaches said the editing was time-consuming as the interviews were done over time and they had to pinpoint the important parts. She said several cinematographers supplied the amazing footage found throughout the documentary and the drone shot at the beginning was supplied by the National Park Service taken in 2010 before there was a ban on drones in the park.
Peaches said her favorite place in Grand Canyon National Park is the confluence where the Little Colorado River runs into the Colorado River and knows that her place is part of the creation stories for the Navajo and Hopi.
Peaches is concerned about threats to Grand Canyon National Park, which include noise pollution from the helicopters and commercialization.
The park is a place where people seek serenity and helicopter operations don't show respect for this being a holy place, she said.
She also doesn't like to see people trying to make money off the Grand Canyon by proposed developments.
"There should be no more building on it. Just let it be," she said.
Although grateful for the funding, Peaches said more money should be put toward financing documentaries because the time it takes for video editing.
"I feel that to promote Native American people, there should have been more funding (of the film)," she said. "Filmmakers spend a lot of hours in front of a camera."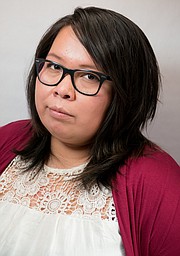 Peaches said this is a cautionary tale because filmmakers should know that their voices are important and they should not undervalue themselves.
She said when she started filming she was not prepared for the high temperatures and potential heat exhaustion. She did not know all the tools she needed like an umbrella and ice.
When Peaches was at Mount Elden Middle School in Flagstaff, she started making short films with a friend. In high school, she played basketball but dislocated her patella and started making more films.
Peaches went to Northern Arizona University's Electronic Media Program for two years and was happy she was able to use their equipment. She obtained a student loan and used the $5,000 to buy a camera.
She made more films including one about her maternal grandmother.
She made another film called "Rocket Boy" which was released at the Sundance Film Festival in 2011.
She co-founded Paper Rocket Productions with Jake Hoyungowa and they created some environmental and cultural justice films.
From 2012-2015, they made some small documentaries. They also held workshops throughout the reservation in Shonto, Kayenta and Shiprock. They taught 120 kids and adults who attended with the kids.
In 2020, Peaches changed the name to DLP Productions LLC. She has made documentaries in Alaska and Seattle.
Peaches' upcoming documentaries focus on agriculture and plant-based diets.
Peaches' advice to upcoming filmmakers is that it's important for everyone to know that their voice is important.
"Don't underestimate your powers," she said.
"Voices of the Grand Canyon" won best documentary at the Indie Film Fest in Phoenix in February 2022. It has been accepted into a dozen festivals around the world, including the Flagstaff Mountain Film Festival, American Indian Film Festival in San Francisco, Red Nation Film Festival in Los Angeles, Colorado Environmental Film Festival, and Quetzalcoatl Indigenous International Film Festival in Quintana Roo, Mexico. You can also catch the film playing periodically at Grand Canyon National Park's visitor center on the South Rim.
SUBMIT FEEDBACK
Click Below to: