Nizhóní Soaps: How a mother-daughter duo built a business rooted in tradition
Originally Published: March 21, 2023 11:26 a.m.
Nizhóní Soaps, a Native American-owned soap company, has been awarded the ORIGINATIV Entrepreneur Award by FirstBank and the Phoenix Suns for its commitment to promoting indigenous traditions and economic empowerment. The award is part of the FirstBank Empowerment Awards, a season-long program that supports marginalized communities through economic empowerment.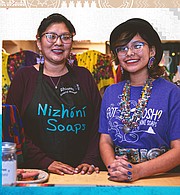 Nizhóní Soaps was founded by 13-year-old Kamia Begay and her mother Rhianna Brown as a way for Begay to cope with the loss of her father. Begay taught herself how to make soap through YouTube videos and with encouragement from friends and family, began selling her products at local events. The business has since grown to include an online store and three brick-and-mortar locations in Arizona and New Mexico.
Begay, who was born in Shiprock, NM, in the heart of the Great Navajo Nation, is committed to incorporating Navajo culture into her products, using ingredients sourced from the Navajo reservation in northeastern Arizona. She blends Navajo teas, yucca, sage, and sweetgrass into the products, paying homage to her people and culture.
"I started this Soap Business with my Family because we truly enjoy using our Soaps each and every day!" Begay said, "And I wanted the World to experience all natural Native American scents from my homeland."
As the recipient of the ORIGINATIV Entrepreneur Award, Nizhóní Soaps received a $5,000 grant from FirstBank and was recognized on-court at a recent Suns home game against the Dallas Mavericks. The award is part of the Suns' ORIGINATIV program, which celebrates and honors the 22 Tribal Nations of Arizona.
The business has a mission to preserve indigenous traditions and empower their community by paying homage to Navajo people and culture through the use of ingredients such as Navajo teas, yucca, sage, and sweetgrass in their products. Nizhóní Soaps' promise is to provide the finest quality glycerin soap made with fine natural vegetable oil recipes, hypo-allergenic, non-comedogenic, biodegradable, no animal testing, no animal products, vegan, gluten-free, soy-free, and no SLS or SLES.
"We are honored to recognize Nizhóní Soaps as the deserving recipient of the ORIGINATIV Entrepreneur Award," said Humphrey Shin, FirstBank Market President. "Their exceptional commitment to preserving indigenous traditions and empowering their community is inspiring and demonstrates the impact a small business can make in creating positive change."
The recognition from FirstBank and the Phoenix Suns will help Nizhóní Soaps continue to grow and spread its message of empowerment and cultural preservation.
SUBMIT FEEDBACK
Click Below to: