Navajo Basketball takes center stage in LeBron James' new Netflix film "Rez Ball"
Originally Published: March 8, 2023 5:06 a.m.
Navajo Nation President Buu Nygren was visited by producer Mauricio Mota and director Sydney Freeland on March 1 to discuss their plan to film the Netflix basketball film "Rez Ball," a movie about the fast-paced and high stakes sport of Navajo high school basketball.
The film is expected to begin shooting this summer and is being produced by LeBron James' production firm, Spring-Hill Company and and directed by Emmy-nominated writer-director Sydney Freeland, who grew up in Gallup and graduated from Navajo Prep.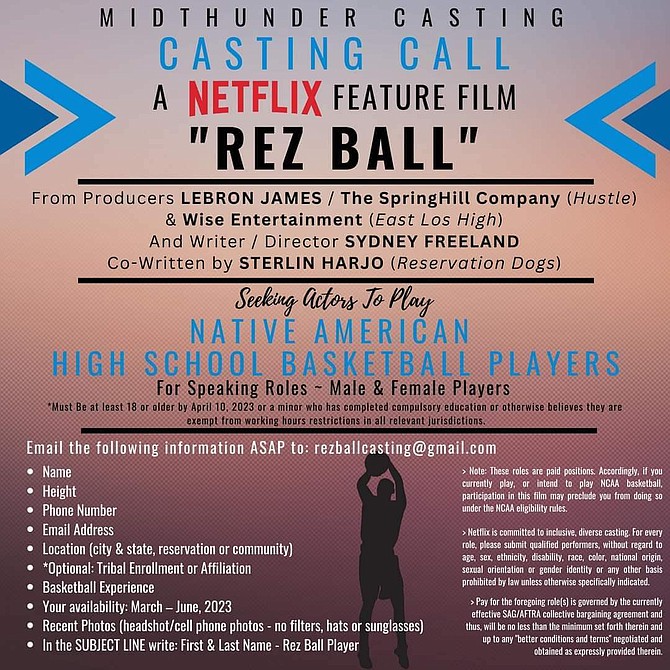 The film is based on the book "Canyon Dreams: A Basketball Season on the Navajo Nation" by New York Times sports commentator and reporter Michael Powell. Published in 2019, the book is based on the 2016-17 Chinle High School boys basketball team and its pursuit of a state title. Powell left his home in Brooklyn, N.Y., to follow his wife to a job in Chinle. It was there he discovered the phenomenon of Navajo basketball, which he documented in "Canyon Dreams." "Rez Ball" will feature the fictional Chuska Warriors boys high school team.
Casting calls for the film were recently held at the Shiprock and Nenahnezad Chapter Houses. Nygren said he was excited about the film and its potential to showcase Navajo culture and values on a national stage.
SUBMIT FEEDBACK
Click Below to: