Branch appointed as 13th Attorney General of Navajo Nation
Navajo Nation Department of Justice, Office of the Attorney General.
Originally Published: January 31, 2023 3:04 p.m.
Ethel Branch has been appointed by President Buu Nygren as the 13th Attorney General of the Navajo Nation.
Branch is Bįįh Bitoodnii (Deer Springs Clan) born for the Naakai (Mexican People). She was born in Tuba City and was raised on her family's ranch 10 miles south of Leupp. She previously served as the Navajo Nation's 11th Attorney General.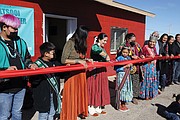 Most recently Branch co-founded and served as the Executive Director of Yee Ha'ólníi Doo, which does business as the Navajo & Hopi Families COVID-19 Relief Fund. In March 2020 she mobilized a crowdfunding effort to bring COVID relief to Navajo and Hopi reservation-based families. The effort became a top 5 GoFundMe campaign. Her team provided COVID relief to almost half a million Navajo and Hopi people and opened community centers in Monument Valley (Navajo Nation) and Sheep Springs (Navajo Nation) focused on making Navajo communities pandemic proof for the long term by rebuilding local Navajo food, social, and small business economies and ensuring language and culture transmission to the next generation. Ethel was recognized as one of the 7 unsung heroes of the pandemic by Bill Gates.
As the Navajo Nation's 11th Attorney General, Ethel worked on a broad range of issues that impact Indian Nations. Specifically, she
Directly oversaw and coordinated the legal and public relations work associated with the Navajo Nation's response to the Gold King Mine Spill, Wells Fargo's unfair business practices on the Nation, President Trump's attempted revocation and replacement of the Bears Ears National Monument, and abuses by opioids manufacturers and distributors to tribal members.
Defended the voting rights of Navajo citizens in state and local elections.
Provided guidance and leadership to a litigation team that prevailed in opposing certiorari petitions to the U.S. Supreme Court in two significant Indian law cases.
Secured positive rulings in numerous federal courts of appeal and district court cases.
Developed documents, delivered a rating agency presentation, and marketed bonds to investors for the Nation's first Limited Public Offering.
Led the effort to strengthen the Nation's public safety system through better coordination of limited resources and elimination of administrative barriers through reform of the Nation's Criminal Code and Rules of Criminal Procedure.
Launched and oversaw the Nation's Public Integrity Task Force that focused on developing partnerships, processes, and law and policy changes to allow the Nation to respond more quickly and effectively to reports of white-collar crime and corruption.
Before becoming the Nation's 11th Attorney General, Ethel worked for a private law firm representing Indigenous Nations in sovereign-to-sovereign negotiations and high stakes litigation. Before that she worked in tribal finance and served as bond counsel to the Navajo Nation in the issuance of the first tribal general obligation bond governed by tribal law and enforceable in tribal court (this deal earned the 2011 Native American Finance Officers Association Deal of the Year Award) and the first Tribal Economic Development Bond issued. Ethel also worked to advance indigenous human rights in the United States through her work for a legal non-profit and in her role as Co-Chair of the Seattle Human Rights Commission.
Ethel graduated from Harvard College in 2001, earning her A.B. cum laude in history. In 2008 she received a J.D. from Harvard Law School and an M.P.P. from the Harvard Kennedy School of Government. While in graduate school, Ethel was a Zuckerman Fellow and Nationbuilding Fellow, and served as a Senior Editor and Article Editor on the Harvard Environmental Law Review.
Information provided by Navajo Nation Department of Justice, Office of the Attorney General.
SUBMIT FEEDBACK
Click Below to: