Indigenous artist featured at Super Bowl for first time
Lucinda 'La Morena' Hinojos is tapped as the NFL's 'marquee artist' this year with works featured on game tickets, a large mural and other displays
Sandra Hale Schulman, Special to ICT
Originally Published: January 24, 2023 3:25 p.m.
For the first time, an Indigenous artist's works will be featured at the Super Bowl, gracing game tickets, displays and a massive Super Bowl mural in downtown Phoenix with images that reflect her multicultural roots.
Phoenix-based artist Lucinda Hinojos — who is Mexican-American as well as Pascua Yaqui, Chiricahua Apache, White Mountain Apache, and Pima — was chosen by the National Football League as the marquee artist of Super Bowl LVII, which will be played Feb. 12 at State Farm Stadium in Glendale, Arizona.
Her key design, unveiled publicly on Tuesday, Jan. 10, by the NFL, is what officials described as an "elaborate, deeply meaningful piece" that shows the iconic White Tank Mountains reflected in the traditional Vince Lombardi trophy, surrounded by Indigenous and Azteca dancers, corn, hummingbirds, baskets and cactus.
"Lucinda's insight and direct, personal connection to the amazing and diverse history in Arizona made her the perfect partner for this project," Marissa Solis, the NFL's senior vice president of global brand and consumer marketing, said in a statement.
"She is a gifted artist, a football mom and a woman," Solis said. "We are so thrilled to use Super Bowl as a platform to showcase her beautiful artwork and by extension, spotlight the local communities integral to Arizona."
Hinojos told ICT she brought her multicultural experiences to the piece through color, images and design.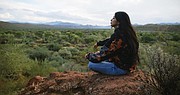 "That selection was due to my cultural ties and my spirituality, and this is my connection to my community here in Phoenix," she said. "It's not just my art. It's everything that I bring with my art and what I've put into my art … They can feel that spirit."
She will also be working on a huge mural in collaboration with Cahokia, an Indigenous-led platform for creative peacekeeping, with Indigenous artists Randy Barton, Diné; Yuke, who is Yaqui; and CC of the San Carlos Apache.
The mural, which will be painted on the Monarch Theatre in Phoenix, is the largest mural ever produced for the Super Bowl, at 9,500 square feet.
'Radical self'
Born and raised in Phoenix, Hinojos, also known as "La Morena," (brown-skinned woman), was among several artists the NFL contacted about submitting proposals to be the marquee artist this year.
She submitted a written proposal — not a drawing — along with a portfolio and social media links to her works.
"The NFL reached out to a couple of artists from Phoenix, and they had us send in a proposal," Hinojos told ICT via Zoom. "I submitted a proposal, and then I got that Zoom call that I was selected to be their visual artist for the Super Bowl … It felt like I got drafted for the NFL!"
Then she had to work with the NFL to incorporate football and cultural imagery into her work.
"With my work, I naturally like to be very authentic and put in my culture, put in my spirituality," she said. "But working with a corporation like the NFL … you have to find a way around and with it, but still be your radical self."
She said the all-woman NFL arts team provided specific direction but still gave her flexibility in the design.
"There are certain elements that they wanted," she said. "They wanted the trophy to be the hero, so they wanted me to treat the trophy, the Lombardi trophy, like I do my portraits … We went back and forth, back and forth. The hard part was I wanted to put traditional Native patterns in, Chicano patterns and elements flooded with culture."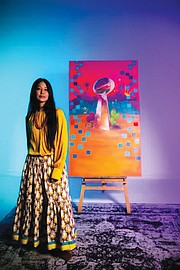 She said they finally came to a decision on a digital piece that had to do with her color choices.
"I got everybody excited because I exploded it with my colors, and I exploded with elements that naturally inspire me when I'm out in Salt River and I'm out there with the land," she said. "I wanted to incorporate all these things that I see when I'm out there. A lot of people try to put us in a box and stereotype us — that we look this way or we paint this way.
"But with this painting, I combined both my cultures, the Chicano and Native cultures, and I did that with the colors that I used."
She said the colors reflect the desert setting featured in the design.
"When using these bright colors, there's an energy shift," she said. "What happens is with these murals, I use bright pink and some oranges, which can shift your energy… and it draws in your audience. Then what they look at next is what's in front of that color."
She said the design features a pixelated pattern that she has used in past murals, with a simplified background and artistic elements throughout.
"I tried to be universal by adding the Azteca dancer and the fancy shawl dancer," she said. "I wanted movement and dancing. I suggested putting the basket to represent the land that we're on. So there are secret elements that's not loud in your face, but they're there in the painting."
The use of the hummingbird has a special meaning in both Indigenous and Mexican cultures, she said.
"The hummingbird is something significant to me since I was little," she said. "In both my cultures, these hummingbirds are messengers … When a loved one has passed, I always feel that they come back as a hummingbird."
Looking ahead to game day
The NFL's announcement that Hinojos had been chosen was released with her artwork designs Tuesday, Jan. 10, along with a short film that will air on the NFL Network about her and her art.
Her works will also be featured on Wilson footballs, which are producing a limited edition of 200 balls that she painted with two panel pieces. She will be signing 30 of them, and hand-embellishing them.
The mural in downtown Phoenix that she'll be painting with other Indigenous artists has a special meaning to her as well. A previous mural on immigration that she started painting there in 2015 was stopped by political forces, she said.
"I'd never seen that happen," Hinojos told ICT. "That mural changed my life. That project woke me up culturally, politically and spiritually. And so now we're circling back."
The mural will include elements from each artist's respective background, including an Apache woman, a Diné rug pattern and elements from Hinojos' central design.
"The new mural image is taken from the painting and we kind of move the elements around," she said.
Lastly, Hinojos has one final wish.
"I'm hoping I get Super Bowl tickets!" she said.
This story originally appeared on Indian Country Today.
SUBMIT FEEDBACK
Click Below to: