Tuba City Warriors on the move
Marilyn Sheldon, Navajo- Hopi Observer
Originally Published: January 17, 2023 1:44 p.m.
The Lady Warriors basketball team had a tough week, going 1-2 in their games. They lost to Alchesay 56-47 on Jan. 7 and to Monument Valley on Jan. 10. However, they were able to bounce back and secure a victory against the Hopi Bruins on Jan. 12, with a final score of 64-14.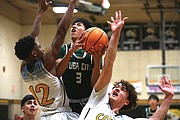 On the other hand, the Warrior boys had a successful week at the Coyote Basketball Invitational Tournament, going 2-2. They continued their winning streak with a 2-1 record since the winter break, with wins against Alchesay 61-48 and Hopi 70-59. Their only loss was against Monument Valley, with a final score of 64-4.
Tayden Arizona had a standout performance at the tournament, showing off his skills as he goes up for two. Kiyaana Hatathle also had a strong performance on the court, with her impressive shooting abilities on display in an earlier game in Flagstaff last month.
The Lady Warriors will look to improve their record in the coming weeks while the Warrior boys will continue to build on their success. With talented players like Tayden Arizona and Kiyaana Hatathle, both teams are sure to put on exciting performances for their fans.
SUBMIT FEEDBACK
Click Below to: