Historic gathering of Navajo leaders at inauguration
Levi Rickert, Native News Online
Originally Published: January 17, 2023 1:33 p.m.
FORT DEFIANCE, Ariz. — For the duration of the Navajo inauguration ceremony on Jan. 10, four past leaders of the Navajo Nation sat together in the front row for a historic photo. They all were present at the Dee Hółdzil Event Center at the Window Rock High School in Fort Defiance, Arizona.
Sitting there, they represented a lot of history for the Navajo Nation, which sits on the largest reservation in Indian Country. Combined, the four leaders led the Navajo Nation for a total of 35 years.
In attendance to witness the swearing in of Navajo Nation President Buu Nygren, the youngest person to ever lead the tribe, were outgoing President Jonathan Nez, 47, former presidents Joe Shirley, Jr. and Ben Shelly. Also in attendance was Peter McDonald, who served as chairman of the Navajo Nation. After McDonald served as chairman, the top leader position was named president.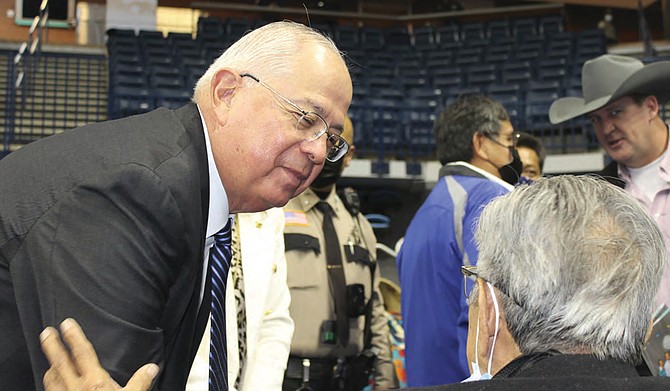 Former Assistant Secretary of the Interior, Indian Affairs Larry Echohawk stopped by to introduce Utah Lt. Governor Deidre Henderson to McDonald. Also seen stopping by to greet him were Arizona Attorney General Kris Mayes and Arlando Teller, deputy assistant secretary for Tribal Affairs at the U.S. Department of Transportation.
McDonald currently serves as the president of the Navajo Code Talker Association.
Shirley, 75, who wore a traditional vest and a black cowboy hat, served as president from 2003 to 2011. Shirley is the only person since 1991, when the position was established, to serve two terms as president of the Navajo Nation.
Shirley sought a third term during the 2018 election. His running mate was the current president, Buu Nygren.
Shelly, 75, wore blue jeans and a tan jacket, served as president of the Navajo Nation from 2011 to 2015.
Nez succeeded Russell Begaye, who was not present on Tuesday. Nez served from 2019 until Tuesday. His mark on history will be that he presided over the tribal nation during the COVID-19 pandemic.
In his inaugural address, Nygren thanked Nez for serving the Navajo Nation during the COVID-19 pandemic, which afflicted over 80,000 Navajo citizens and caused the death of almost 2,000.
There were a lot of smiles on the faces of the past Navajo Nation on Tuesday.
This story originally appeared on Native News Online.
SUBMIT FEEDBACK
Click Below to: