California tribes work to give mountain lion P-22 a proper burial
Aging feline captivated the community and contributed to science as the face of the endangered lion population
Sandra Hale Schulman, Indian Country Today
Originally Published: January 10, 2023 2:19 p.m.
LOS ANGELES, Calif. — For many Los Angeles residents, he was a feline movie star.
For the Tongva, he was called tukuurot, and was a reflection of their displacement.
The famous mountain lion, numbered and named P-22 by the National Park Service, roamed for a decade in the small 9-acre confines of Griffith Park near downtown Los Angeles.
He survived crossing two of the busiest highways in the country — the 405 and the 101 — and lived off wildlife such as deer and coyotes. He is believed to have killed at least two Chihuahua dogs and perhaps a koala at the Los Angeles Zoo.
As the sole mountain lion in the park, however, he never had a mate, stalking alone in the hills and hiking trails underneath the famed Hollywood sign. Photographers scrambled for photos of his lean frame and golden eyes. Images of his lonely figure, captured on home surveillance cameras, were shared on social media.
Born in the Santa Monica Mountains north of Malibu, he became bigger than his 125 pounds, an ambassador of wildlife, an urban legend. Every Oct. 22, the city dedicated an annual festival — P-22 Day — to him. He became the face of the endangered Southern California lion population.
But in the end, P-22 could not survive the ravages of old age, diseases carried by domestic pets and the trauma inflicted from being hit by a car. Captured, sickly, in a backyard, authorities made the decision to euthanize him Dec. 17.
Now local tribes and advocates are pushing to give the stately lion a proper burial, and have already won affirmation from the National History Museum of Los Angeles County that he will not be taxidermied for display.
"There's a deep respect, almost a family connection with all of creation, all of wildlife, and wildlife is considered our brother, our sister, our family, and it's something we respect," Jerry Nieblas, of Juaneño Band of Mission Indians Acjachemen Nation told ABC News.
"We believe all the animals come from the Earth and we want them returned to the Earth," Alan Salazar, tribal elder with the Fernandeño Tataviam Band of Mission Indians told the Los Angeles Times.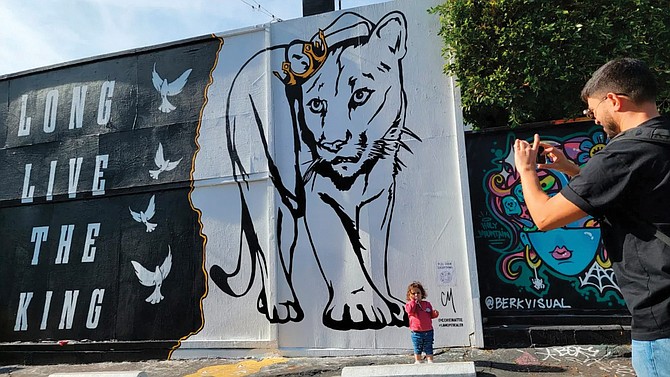 'A very old cat'
P-22 was outfitted with an electronic collar in 2012 when he was about one year old, and became part of a study that the National Park Service had been conducting since 2002 on mountain lions and their habitat.
P-22's father is believed to have been P-001, the first animal captured and fitted with an electronic collar in July 2002. He was a dominant male found to be guilty of femicide and parricide by the researchers – meaning he killed females and other relatives, such as parents and offspring.
More than 100 mountain lions are now part of the NPS study. In August, four new lion cubs were named and numbered P-109, -110, -111 and -112.
"P-022 was our most famous mountain lion and known as our 'Hollywood Cat,'" the park service posted on its website.
He lived to be about 12 years old, which, park officials said, "is a very old cat."
Biologists noticed a change in his behavior starting in November, however, when he attacked and killed a dog being walked on a leash. There were other sightings and close encounters, officials said, suggesting P-22 was in distress.
In December, the park service worked with the California Department of Fish and Wildlife to capture P-22 in the Los Feliz area, and took him to the San Diego Zoo Safari Park, according to the website.
He was found to have severe injuries, including trauma to his head, eye and internal organs, most likely from being struck by a vehicle. He also was suffering from irreversible kidney disease, chronic weight loss, a parasitic skin infection and arthritis, they said.
The decision was made to euthanize him.
"What made P-022 unique was that he somehow made his way into Griffith Park," park officials said. "P-022 lived an extraordinary life, and he captured the hearts of so many people across Los Angeles and beyond."
A lasting legacy
The remains of P-22 were sent to the National History Museum of Los Angeles, where he was met by representatives from the Chumash, Gabrieleño, Tongva and Tataviam tribes.
Tribal leaders led a blessing ceremony welcoming P-22 "back to his homeland," the museum said in a statement.
Museum officials also met with descendants of the Gabrielino-Shoshone, Akimel O'otham and Luiseño tribes for the puma blessing ceremony.
When P-22's remains were picked up, Salazar was there. He burned sage, waving the smoke over the remains in ceremony.
The tribes and Tongva artist Weshoyat Alvitre have been vocal about what they want for P-22 — they want him to have a dignified burial in Griffith Park. The museum has pledged he will not be physically preserved or displayed.
"We want to ensure that multiple voices are heard around the respectful consideration of his remains," the museum said in social media posts. "Decisions regarding next steps will continue to be made together with local Tribes, with more information provided as it becomes available."
And his legacy will live on. Researchers will continue studying the data collected in the past 10 years, and officials at the Natural History Museum will update its permanent exhibit, "The Story of P-22, L.A.'s Most Famous Feline," with added stories and programs.
A free celebration of life for P-22 has been announced at the Greek Theatre for Feb. 4.
"We will all be grappling with the loss for some time, trying to make sense of a Los Angeles without this magnificent wild creature," the theater said. "Let's come together as a community to celebrate his remarkable life. Joining us will be special guests speaking about their connections to P-22 — and how he also connected us all."
SUBMIT FEEDBACK
Click Below to: