Change Makers: Navajo women business owners take leadership on Navajo Nation Council
Originally Published: January 3, 2023 12:28 p.m.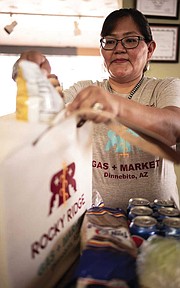 Cherilyn Yazzie, owner of Coffee Pot Farms in Dilkon, Arizona and Germaine Simonson, owner of Rocky Ridge Gas + Market in Hard Rock, Arizona are hoping to use their new leadership positions to help Navajo owned small businesses thrive on the Navajo Nation.
Both women own businesses in rural areas of the reservation and want to make sure rural regions aren't left out of the conversation.
Yazzie will be representing the following Chapter Houses: Dilkon, Greasewood, Indian Wells, Whitecomb and Teesto. Simonson will be representing Black Mesa, Forest Lake, Hardrock, Pinon and Whippoorwill Chapters.
The two women join a historic council with a record number of women leaders serving in Council Delegate seats. There will be nine women representing their communities.
"It's a gift and we have to take care of it," Simonson said. "We have a lot of young women and young girls watching us and the picture that we paint is going to be a message to them."
Yazzie echoed the importance of being role models, saying grandmas, aunties and young women are watching them. She hopes the young women see that it's possible for them to hold leadership roles or that they see it's possible to run a successful Navajo small business.
"If we use our camaraderie and women collaborate and if we can be cohesive, we can do a lot. We can really get a lot of work done," Simonson said.
While they are honored to serve, they are also ready to make change.
"One of the reason's I ran for this position was after realizing through our business as farmer's that we don't have access to water. It's really hard to run any kind of business when you're wanting to grow healthy food and you want your community to be healthy," Yazzie said.
Her husband hauls water at least 16 hours a week, if not more, and there are countless ranchers and farmers in the same situation. The need for water is constant and Yazzie is looking to the future with hope to find solutions.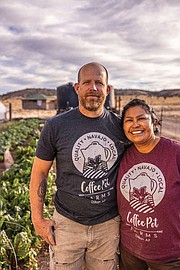 While Simonson doesn't run a farm, the lack of water also impacts her everyday living, as well as those across the most rural areas of the Navajo Nation. According to the Navajo Nation Department of Water Resources, 30 percent of the population is living without reliable access to water. This includes drinking water as well as water for irrigation and livestock.
The lack of water was made more noticeable during the pandemic.
"I don't have running water, so when the chapter shut down, it briefly shut down my access to water, '' Simonson said. "So, not only for farming but for those of us living in rural parts that don't have that water infrastructure, we really need to have access to water besides what NTUA has to offer."
Simonson is also focused on getting support to Navajo businesses and taking a look at business regulations that may make owning a business unnecessarily harder on the entrepreneur.
"There is no business support anywhere. They are working hard enough as it is, we don't need to make it any more complicated," she said.
Because both women own businesses, they worry they'll be pegged as biased or they won't get to speak on business policies.
"I feel like it already puts me on a certain side," Yazzie said..
She doesn't want to be seen as only a business owner but as someone who can help speak to the struggles business owners face.
"I know as a small business owner, we're just trying to make a little bit of money so we can pay our bills and we stay on the Navajo Nation as a small business because we see the actual problems," Yazzie said.
The Navajo small business owners know the need in their communities so they try to provide services to meet those needs, even when the risk of owning a business on the reservation is high.
"They're here because they want that tradition, be here close to home and we have to be able, as a legislature, to figure out how to make it easy for them," Yazzie said.
From the local burrito vendor to the community tire shop, the wood haulers, the medicine sellers and sheep owners who raise and sell sheep for income, all those businesses are important to both women and they want to see them succeed.
"But we have to be more supportive of them. I want to know who they are and I want them to know that I'm here to listen," Yazzie said.
Simonson said the fact that they have experience as business owners on the Navajo Nation puts them in a unique position because they know first hand what the struggles are and what obstacles are making it harder to have a successful Navajo owned business.
"I think the biggest challenge for me is when I go to speak on anything business. People are already looking at how to limit you," Simonson said.
She feels she'll be labeled a conflict of interest and anything she says might be seen as a benefit to her but she wants other businesses to benefit because the policies and regulation don't always favor small business.
Simonson said policies and rules need to be treated as living documents that can be updated and changed. She isn't afraid to question the rules, especially if they seem to exist unnecessarily.
"You have to have a bunch of tools on your tool belt to be an effective leader and knowing rules is good but it's one tool. It's not everything," Simonson said.
Change Labs supports the creation of successful Native American small businesses that provide a social benefit to tribal communities.
SUBMIT FEEDBACK
Click Below to: