Inspiring a generation of storytellers
NAU's Andy Harvey Indigenous Youth Media Workshop back for its 10th year
Originally Published: February 28, 2023 5:44 p.m.
FLAGSTAFF, Ariz.— Northern Arizona University's (NAU) School of Communication is accepting applications for the 2023 Andy Harvey Indigenous Youth Media Workshop that will be held from June 25 to July 1.
The workshop is named after Andy Harvey, a former NAU journalism alumnus and multimedia reporter. The program aims to encourage Native American and other high school students across Arizona and the Southwest to learn multimedia broadcast journalism skills and use the tools and skills they acquire to tell their own stories and promote their aspirations to attend college.
The workshop, which has been ongoing for ten years, allows students to live in residence halls on the NAU campus in Flagstaff and work in the School of Communication's Media Innovation Center newsroom and HD television studio.
The students will have the opportunity to use professional equipment to learn multimedia broadcast journalism skills, including video, TV, audio, and immersive journalism, and produce multimedia news stories, including a live news broadcast in the three-camera high-definition studio.
Students will participate in a media job fair to discover potential media careers and receive guidance from Native American mentors, journalism faculty, and media professionals throughout the workshop.
The workshop is open to students currently in grades 8-12, with preference given to Native American high school juniors and seniors. The cost of tuition is $50, and full scholarships are available. Students will be provided with room and all meals during the week, but travel to and from Flagstaff is not included.
The primary goal of the workshop is to empower Indigenous youth to be agents of positive change through telling the stories that are important to them and their communities.
For more information on the workshop and to apply, visit nau.edu/communication/indigenousyouthmediaworkshop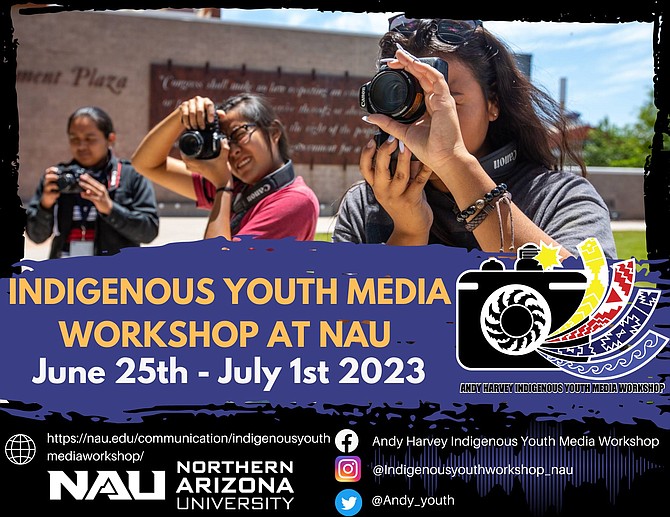 SUBMIT FEEDBACK
Click Below to: