Monument Valley Mustangs fall to Valley Christian at state finals
Marilyn Sheldon, Navajo- Hopi Observer
Originally Published: February 28, 2023 3:20 p.m.
PHOENIX — The Monument Valley Mustangs finished their season at the 3A State Championships Feb. 25, where they fell to Valley Christian 65-44.
It's been a long time since the Mustangs have has played in a 3A State Championship game. The last time was 2003.
The Mustangs had a stellar season. They entered the 3A state finals undefeated in regional play, and only one loss with their 27-4 overall record.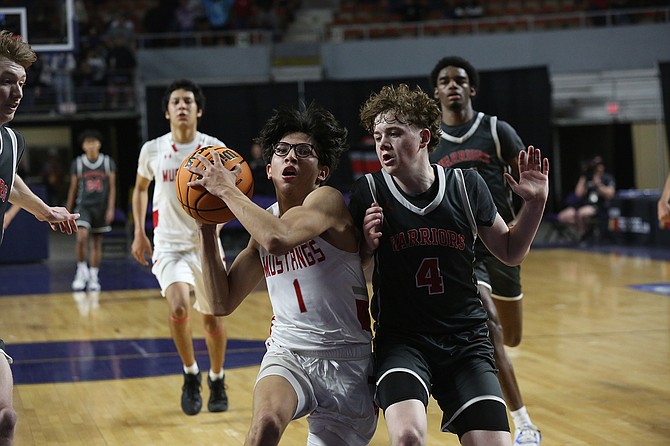 In their semi final matchup Feb. 24 with ALA Ironwood, the Mustangs found themselves giving up several inches in height to the Queen Creek team. The game see-sawed back and forth. Monument Valley fell behind in the fourth quarter, but scrambled their way back. With two seconds left on the clock, they dropped a shot for the one-point win.
"After the game, we didn't get back to our rooms until about 1:30," said Coach Randolph Gilmore. "We needed another day's rest before we had to play Valley Christian, last year's 3A state champions."
Again, the Mustangs, whose tallest player is 6'2" gave up several inches in height on several match ups.
"Their point guard is 6'5"," Gilmore said. "Their tallest player is 6'8", and they have a 6'6", and 6'5", he said. "It also didn't help when one of our best players, Uzziel Flores, had to go to the bench with a possible concussion."
The Mustangs fell behind in the second quarter, and never bounced back. Valley Christian was fueled by a 17-8 run early in the second quarter. The Trojans continued to build on their lead, and at the final buzzer, led Monument Valley, 65-44, giving them back-to-back state 3A titles.
Randolph is proud of his team.
"These guys are all coachable," he said. "Next year will be a reloading year for us," said the second-year MVHS coach. "We'll have five juniors and two sophomores coming back. Our goal is to come back to the championship game next year. Next year's season starts right now."

SUBMIT FEEDBACK
Click Below to: